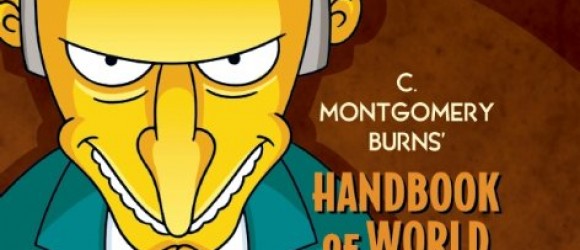 C. Montgomery Burns' Handbook of World Domination
Author:  Matt Groening
Publisher:  Insight Editions
ISBN-10:  1-6088-7320-X
ISBN-13:  978-1-6088-7320-3
Disclosure: A free copy of this book was furnished by the publisher for review, but providing a copy did not guarantee a review. This information is provided per the regulations of the Federal Trade Commission.
This 64-page cartoon "book" is a pop-up book for adults.  For all fans of the mega-popular TV animated series, actually.  "Celebrating 25 Years of The Simpsons™!"
In small type, Matt Groening is credited as the creator of the 1990-present "The Simpsons".  The actual producers of this book are two writers, ten artists, and several layout designers and editors of the TV staff.
Specifically, this is the third (of twelve) of the semi-annual "The Vault of Simpsonology" series of 64-page cartoon fun books for all-ages fans of America's longest-running prime-time TV series, "The Simpsons".  It follows "Homer Simpson's Little Book of Laziness" (September 2013) and "Bart Simpson's Manuel of Mischeif (March 2014).  This volume (September 2014) showcases the greed and nastiness of the TV series' main villain, Charles Montgomery Burns, the hissable megaplutocrat who owns mythical Springfield, U.S.A.'s major business (the safety-negligent Springfield Nuclear Power Plant), the local bank, the TV station, the supermarket, and all other important establishments.
Read More

»