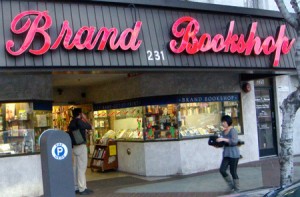 Brand Bookshop is closing after 29 years. Did you hear that sound? It was the sound of my heart breaking, shattering and falling on the floor as I clutched onto a bookshelf to steady myself in my apartment after hearing the news.
I don't remember the first time I went to a bookstore, but my first lucid memory of it I was very small and holding my Uncle Kiki's hand. He'd taken me to a store and treated me to a book. That day glistens in my memory like a shining star. I'd been too bookstores before, taken in arms by my grandparents, uncles and aunts, my father…but that day I remembered. I remember the stacks, shelf upon shelf of glorious, musty-smelling used books. Treasures glittering in Aladdin's cave.
My uncle took me to the children's section and there I sat happily poring over book after book. We left that day happy, me with a sack full of wondrous books – my uncle probably thrilled I'd been quiet and still for so long. That day became just one of many such days in my life. Bookstores became my refuge, my second home, my lifeline in troubled times. If I had an extra dollar, that was where I was spending it.
Read More

»