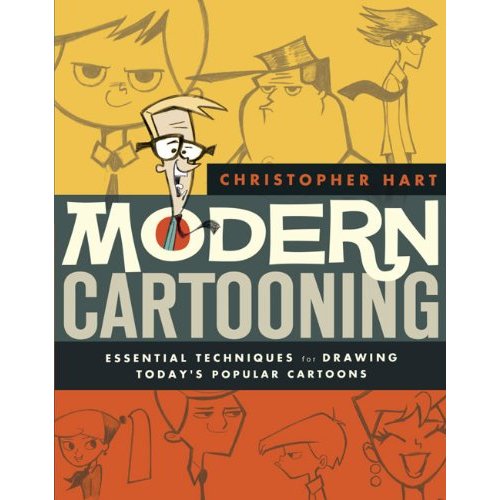 Modern Cartooning: Essential Techniques for Drawing Today's Popular Cartoons
Author: Christopher Hart
Publisher: Watson-Guptill Publications
ISBN-10: 0-8230-0714-6
ISBN-13: 978-0-8230-0714-1
Christopher Hart has been writing best-selling "how to draw" books since the 1980s. Wikipedia says, "His [2001] book, 'Manga Mania: How to Draw Japanese Comics,' was the number one art book in the country for an entire year, according to Nielsen Bookscan." During that time, drawing styles have been getting further and further from the classic Disney style of "cute" cartoons. Consider the popular looks of John Kricfalusi ("Ren & Stimpy"), Genndy Tartakovsky ("Dexter's Laboratory", "Samurai Jack"), and Butch Hartman ("The Fairly OddParents").
Hart's Modern Cartooning: Essential Techniques for Drawing Today's Popular Cartoons (160 pages) emphasizes how to draw in the exaggeratedly individualistic styles that are "in" at the moment. Like most of Hart's books, he starts with a classic how-to-draw tutorial in 'Basic Head Shape' and 'Facial Features'. It is an old maxim for humorous cartoonists that you have to know the basic art rules to know how to break them effectively.
It is with 'Moving Beyond the Basic Head Shape' (page 41) that Hart starts to concentrate on what the modern public, and the modern art editors and animation directors, are looking for. Samples of Hart's cheery advice: "Give her a ridiculously thin neck." "Leaving the circle [the basic head shape] behind, take this same character and fit her with an oval-shaped head. Immediately she becomes quirkier – and funnier, too." "Make the hair defy gravity." "Place the ears below the eye line, as if somehow they never grew as the teen grew. I think this is often funnier." "Do the earrings attach to the earlobes? Nope! They defy physics. Antigravity earrings are great for day wear." "Notice how the arms of the eyeglass frames don't even touch the ears. Why even use them? BECAUSE they're useless – which is funny!" "This [head] shape is based on a modified square. Or maybe a rectangle. Although, it could be a rhomboid. But I don't know what a rhomboid is. The point is – it doesn't have to be an established geometric form. Any funny shape will work!"
Contrariwise, Hart warns to avoid excess complexity. "I used to think that you could only create cool cartoons if you used a lot of different angles for the head. […] Actually, I soon found out that […] too many angles detract from the look of a cartoon." "With eight planes to his head, this version of the same guy is unnecessarily complicated without adding much ban to your buck."
Hart presents head shots alone from pages 41 to 63. Then he moves on to "Medium Shots: The Best, Most Overlooked Angle". Other chapters cover "The Universal Body Type", "Putting Your Characters Together", "Different Body Types", "Adding Important Details", and "Saving the Best for Last: Stuff You Won't Learn in Art School". Whimsical examples include the "Dorky Dad", "1950s Mom", "Trailer Mom", "Funny Senior", and "Mr. Bench Press".
Each final example is preceded by several increasingly detailed outlines showing how to start with a simple sketch and gradually add to it without making missteps. Hart does not omit appropriate backgrounds. "A finished dresser: very symmetrical, very correct, very boring. […] Here, the drawers are uneven sizes and, yes, they're also somewhat slanted. Plus, the vertical lines of the bureau expand as they rise. Even the verticals of the drawers are slanted." A handy Index completes the book.
Hart has written dozens of these how-to-draw books over more than three decades. There is a lot of overlap. But with some exceptions, each of them is aimed at beginning cartoonists who have become fixated on a particular popular cartoon style of the moment – maybe in newspaper comic strips, maybe in increasingly detailed comic books, maybe in TV or theatrical animation, maybe in Japanese cartoon styles – and say, "Wow! I want to draw like that!" Modern Cartooning: Essential Techniques for Drawing Today's Popular Cartoons is a relatively inexpensive ($21.99) basic primer on how to draw in THIS particular style; a first step for the aspiring cartoonist.
Disclosure:  A free copy of this book was furnished by the publisher for review, but providing a copy did not guarantee a review. This information is provided per the regulations of the Federal Trade Commission.