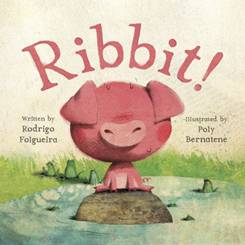 Ribbit!
Author:  Rodrigo Folgueria
Illustrator: Poly Bernatene
Age Range: 3 – 7 years
Hardcover: 32 pages
Publisher: Knopf Books for Young Readers; Reprint edition (March 26, 2013)
Language: English
ISBN-10: 0307981460
ISBN-13: 978-0307981462
This is one of the most charming books I've had the pleasure of reading in a while.  I fell in love the story of a pink pig who just wanted to make friends.  The illustrations on textured paper are big, colorful and comical.  Children, both in the age group it targets and a little older, will adore it.  The book shows that making friends isn't always easy, but worth the trouble.  It also shows children that just because someone is different, that's no reason to be suspicious of them.  Sometimes, people do just want to be your friend.  In a world gone a little mad lately, this simple message of friendship is very welcome and assuring.
The illustrations really are beautiful.  The expressive faces of pig and frogs are wonderful.  They say it all and the text/story provides a little extra detail.  The pig's rather large face is completely lovable and cute.  I can see small children falling in love with it.  The text is wonderful too – it grows larger as the ribbits do and provides emphasis to the story.
When the pig ends up in a tree with lots of little bird friends my middle-grade grandchildren laughed aloud in pure enjoyment.
Lovely, charming and highly recommended.
Book Description from the publisher:
A group of frogs are living happily in a peaceful pond, until they discover a surprise visitor: a little pink pig. Sitting contentedly on a rock in the middle of their pond, the pig opens his mouth and says: RIBBIT! The frogs are bewildered at first, and then a bit annoyed—"What did that little pig just say?", "Does he think he's a frog?", "Is he making fun of us?"
Soon the pig draws the attention of all the nearby animals; everyone is curious to know what he wants! After much guessing (and shouting) and a visit to the wise old beetle, the animals realize that perhaps the pig was not there to mock them after all—maybe he just wanted to make new friends!  But is it too late?  This is a warm, funny, and beautifully illustrated story of friendship, with boisterous RIBBIT!s throughout—perfect for reading aloud.
About the Author & Illustrator
RODRIGO FOLGUEIRA studied art at Buenos Aires National School of Fine Art and works as an author and illustrator, specializing in children's books. He lives and works in Argentina.
POLY BERNATENE graduated from Buenos Aires Art School and has worked across many different genres including advertising, animation, and comic books. He has published more than 60 children's books all over the world. He lives and works in Argentina.