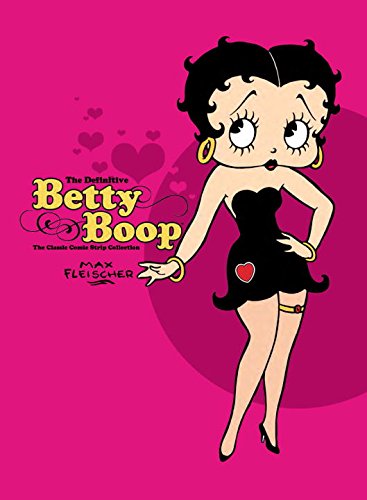 The Definitive Betty Boop: The Classic Comic Strip Collection
Authors: Max Fleischer, Brian Walker
Publisher: Titan Comics
ISBN-10: 1-8485-6707-3
ISBN-13: 978-1-8485-6707-8
Disclosure:  A free copy of this book was furnished by the publisher for review, but providing a copy did not guarantee a review. This information is provided per the regulations of the Federal Trade Commission.
Max Fleischer (1883-1972) was the pioneering animator and owner of the Fleischer Studios that produced the world-famous Betty Boop animated theatrical cartoons of the 1930s. If this anonymous 208-page hardcover book has an author/editor other than Titan Books' art department, it is probably Brian Walker who wrote the "Made of Pen and Ink, She Will Win You With A Wink" 5-page scholarly introduction.
At the height of his animation studios' popularity, Max Fleischer negotiated with the Hearst newspapers' King Features Syndicate to license its "Popeye the Sailor" newspaper comic-strip character for another series of animated cartoons. Fleischer also asked King Features if it was interested in publishing a new comic strip featuring his studios' famous cartoons. King Features was. The result was three newspaper comic strips, collected here: the very short-lived "Out of the Inkwell" starring Koko the Klown, produced by Fleischer's studio (under his name) for King Features to distribute (November 25 – December 15, 1934); the slightly longer "The Original Boop-Boop-A-Doop Girl by Helen Kane", produced by King Features (August 5 – October 12, 1934), and the long-running "Betty Boop by Max Fleischer", drawn by newspaper cartoonist Bud Counihan (1887-1972) with some assistance by the Fleischer Studios' cartoonists. The first two were Sunday color pages only; "Betty Boop" was begun as both a daily and Sunday page in July 1934, and converted into a Sunday-only page from March 1935 to its end in August 1937.
The "Betty Boop" strip presents her as a Hollywood movie star; a mildly sexy forerunner of Marilyn Monroe. The humorous strip was not quite gag-a-day; it had a vague continuous story with several supporting characters such as von Script, her movie director, Betty's handsome co-stars Don Wahn and Van Twinkle, her young brother Bubby and her Aunt Tillie, and Tillie's off-again, on-again fiancée Hunky Dory. It began with her escapades as a movie actress, and segued into her home life with deciding between boyfriends, trying to get movie roles for Bubby as a child actor, trying to get Aunt Tillie and Hunky Dory married, and so on. It is a good example of frankly vapid 1930s humorous comic strips.
This large, 208-page hardcover book ($39.95, Kindle $26.87) is for both the casual Betty Boop fan and the serious collector. It is excellently designed, with samples of the Betty Boop animation model sheets and publicity art, and full information about the history of the newspaper strips, with the daily strips in black-&-white and the Sunday strips in full color. The strips look complete to the casual reader, but the book states that a very few of the strips could not be located and asks any collectors who may have them to contact the publisher. For the general reader, this is what it claims to be; "The Definitive Betty Boop" collection of the 1934-1937 newspaper comic strip.
ABOUT THE BOOK:
Before Marilyn and Madonna, Betty booped and wriggled her way into hearts worldwide with her unique mix of wide-eyed innocence and powerful cartoon sensuality. Although she made her film debut as a curvaceous canine cabaret singer in the Max Fleischer short Dizzy Dishes on August 9, 1930, Betty Boop remains animation's first leading lady and a glamorous international icon.
This beautiful volume collects Betty's adventures as they appeared in the funny pages of daily newspapers in the 1930's, capturing all the cheeky fun embodied by the character.