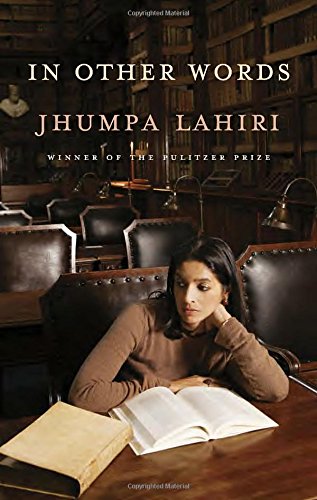 In Other Words
Author: Jhumpa Lahiri
Translator: Ann Goldstein
Publisher: Knopf
ISBN-10: 1101875550
ISBN-13: 978-1101875551
I began to read Jhumpa Lahiri's In Other Words last night after work. It was on my TBR pile, and I had been meaning to get to it since I bought it over a month ago, but I'm in school. At this middle-aged stage in my life I have decided to go get the degree I never had time to get. I'm studying at Northeastern University (all online) and it is intense. My reading these days is mainly schoolbooks. I'm doing a lot of writing of papers. It consumes me to the point where all I think about is school and baking. Baking seems to ease the tension and helps me unravel problems in my writing. It's an English Literature degree I'm pursuing. I'm lost in a world of short stories, Dante and ancient Greeks. So my TBR pile of books I desperately want to read keeps growing.
Last night I said to myself, "Enough." I decided to read something only for the pure pleasure of reading it, and sitting at the top of my TBR pile was Lahiri. Quickly, before I could change my mind and dutifully open the Dante, I slipped into my reading chair and opened Lahiri instead. Immediately, I was swept away. I identified with her lust for the Italian language so much as I have always had a similar courtship/love affair with French. Like Lahiri, I have studied it but don't really know it as much as I would like. I got caught up in her story, told in Italian on one page, English on the other. At first, it was a little distracting. I wanted to read the page normally as I turned them, but would only find Italian on that page. About eight pages in, my mind was trained to only look at the right English pages. There is a rhythm in her writing that is almost song-like and I eagerly read one word after the other, gobbling them up. I was entranced.
This is one of those books you stay up all night reading. It is one I couldn't put down.Thankfully, it isn't a huge tome of a book, but rather an intimate little diary that you ca finish in a night, but go back and savor it. It begs re-reading. At the end of it, I think I became equally fascinated with Italian as I am with French. Later that evening, an Italian came to visit. Together we read the Italian pages of the first chapter, with him gently correcting my spelling. He had a grin on his face that was ear to ear. He too, fell in love with Lahiri's writing, her descriptions of his homeland in Venice, the bridges and of other parts of Italy, like Rome where she went to live. Like me, he found her writing to be engaging, honest and perfectly beautiful. We'll read more of the Italian side of things tonight and in the evenings to come. It's an unexpected gift of a book, one I'm able to share my predominantly Italian speaking friend.
If you love language, you will love this book. If you dream of Italy, you will love this book. Maybe you will just love this book because it's beautifully written and touches the heart, that part of it that knows of longing and desire. Five stars.