Disclosure:  A free copy of this book was furnished by the publisher for review, but providing a copy did not guarantee a review. This information is provided per the regulations of the Federal Trade Commission.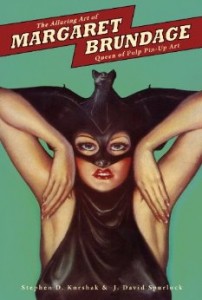 The Alluring Art of Margaret Brundage: Queen of Pulp Pin-Up Art
Authors:  Stephen D. Korshak and J. David Spurlock
Publisher:  Vanguard Productions
ISBN-10:  1-9343-3150-3
ISBN-13:  978-1-9343-3150-7
From about the 1910s through the 1940s, one of the main forms of popular entertainment was the pulp fiction magazines, so-called because they were printed on cheap pulp paper with gaudy, lurid covers.  There were adventure-fiction pulps, Western pulps, jungle-adventure pulps, historical-adventure pulps, science-fiction pulps, air-ace pulps, pirate-adventure pulps, detective pulps, horror pulps, women's romance pulps, and many others.  There were artists who specialized in painting pulp magazine covers, such as J. Allen St. John for the Tarzan stories by Edgar Rice Burroughs.
During the 1930s, one of the standout pulps on the newsstand was Weird Tales, "The Unique Magazine".  Weird Tales specialized in publishing science-fiction and horror with a fantasy bent, such as the exploits of psychic detective Jules de Grandin by Seabury Quinn.  Most of Weird Tales' stories are forgotten today, but the magazine was notable for publishing most of the stories of H. P. Lovecraft, the Conan stories of Robert E. Howard, and the early short stories of Ray Bradbury, Henry Kuttner, Clark Ashton Smith, and Robert Bloch (one of whose stories, "A Sorcerer Runs for Sheriff", WT September 1941, pretty well sums up Weird Tales' editorial policy).
But what made Weird Tales stand out among all the other pulps were its covers by Margaret Brundage.  From September 1932 through October 1938, almost every monthly issue of Weird Tales featured a Brundage pastel chalk painting of a scantily-clad or completely nude damsel in distress being menaced by slavering werewolves, sinister Oriental master criminals, or a cruelly gloating whip- or knout-wielding dominatrix.  Sometimes the nude damsel was offering love to a statue of a pagan god.  At a time when pulp covers often came under cries for censorship for lewdness, Brundage seemed to have an instinct for just how far she could go and keep within the borders of good taste.  I started collecting pulp magazines in the 1960s when they were long-gone except for the used-magazine shops, but fans of the pulps were still talking about the issues of Weird Tales with Margaret Brundage's covers.  She is one of the few artists whose cover on a magazine alone could raise that magazine's price.
The Alluring Art of Margaret Brundage: Queen of Pulp Pin-Up Art is an "everything you want to know" book about Brundage and her work.  What makes this a must-have for most connoisseurs of fantasy art is the life-sized (9" x 12") reproductions in full color on glossy paper of all of her magazine covers.  Most pulp and s-f fans did not realize that she also painted covers for other magazines.  This book includes them, plus several of Brundage's non-cover paintings, some from long after her magazine period.
But wait!  There's more!  This book also includes two complete biographies of Brundage, including interviews given to fans who tracked her down in the 1960s shortly before her death.  There is a biography emphasizing her life and art (she was a high-school classmate of Walt Disney, and they remained on good albeit distant terms throughout their lives), and a biography emphasizing her participation and leadership in Chicago's radical left-wing movement in the late 1920s, including her activism for the Industrial Workers of the World and other labor and bohemian movements, and her unsatisfactory marriage to labor activist "Slim" Brundage.  It was her determination to stay in Chicago that was responsible, after her husband's desertion of her and their infant son, for her to look for commercial art work in that city.  Weird Tales was one of the few magazines whose editorial offices were in Chicago.  It was Weird Tales' sale to a New York publisher in 1938 and the relocation of its editorial offices to NYC that was responsible for Brundage leaving WT.  The new publisher wanted a cover artist who lived in NYC, and Brundage refused to leave Chicago.
The Alluring Art of Margaret Brundage: Queen of Pulp Pin-Up Art is a 164-page book containing 74 magazine cover reproductions in full-size of mint-condition copies, plus ten reproductions of cover paintings from the original art (without the cover lettering) – the only cover originals that still exist after eighty years, because pastel chalk art smears easily.  The book also includes a plethora of posters, photographs, business cards, handbills, and other ephemera from the 1920s I.W.W. and the Dill Pickle Club, a bohemian social group in which Brundage was a leader.
Buy where there is any interest in lavish art books, in popular art or fantasy magazine art of the 1930s, in Margaret Brundage in particular, or the radical left-wing social movement of the 1920s and 1930s.
This book is reviewed from the $24.95 trade paperback edition.  There are also a $39.95 hardcover edition with a different cover; and a $69.95 de luxe slipcased edition with a third cover and a 16-page art folio that is not included in the other editions.