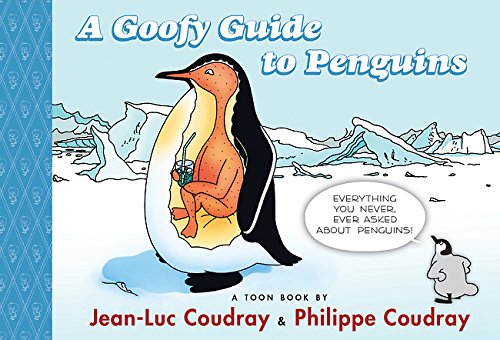 A Goofy Guide to Penguins
Authors:  Jean-Luc Coudray & Philippe Coudray
Publisher:  TOON Book
ISBN-10:  1-9351-7996-9
ISBN-13:  978-1-9351-7996-2
Disclosure:  A free copy of this book was furnished by the publisher for review, but providing a copy did not guarantee a review. This information is provided per the regulations of the Federal Trade Commission.
Everyone loves penguins.  They are cute and funny birds.  This 40-page picture first reader for kindergarten-age children presents some colorful true information and a lot of jokes about penguins.  The jokes are amusing ("How do penguins know they're reached the South Pole?" with a group of Emperor penguins looking at a sign pointing to the North Pole), and the information is factual ("What if penguins tried to WARM UP?  They're ALREADY warm thanks to their fat and feathers.")
The publisher's summary is:  "A collection of humorous short two-panel comic strips featuring the fanciful antics of penguins, which are portrayed doing everything from trying to warm themselves with radiators to putting on stylish hats to tell each other apart."  5-year-olds will enjoy this little $12.95 hardcover book that they can hold for themselves.  The book by two French brother-educators concludes with two pages of "Amazing But True: 100% Genuine, Real Facts About Penguins!" for parents or teachers to share with a young reader.