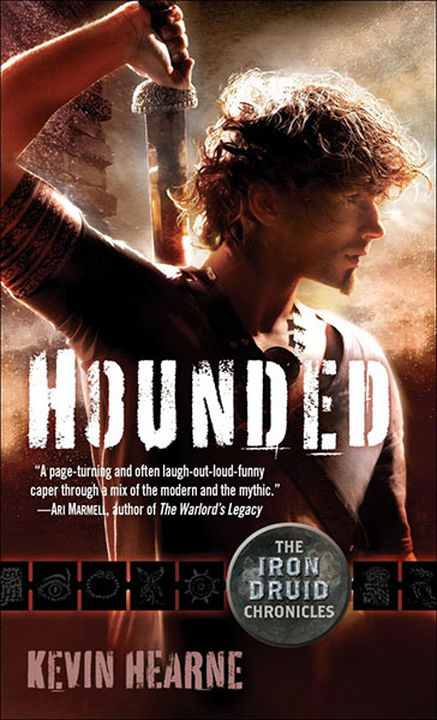 Fans of Hearne can expect to see the roguishly witty Atticus O'Sullivan along with other favorite characters in the new collection of full-color graphic novels.
Atlanta, GA — Dabel Brothers Publishing has partnered with renowned fantasy author Kevin Hearne to bring his New York Times best-selling "Iron Druid Chronicles" novel series to life in comics and graphic novel formats, beginning with "Hounded," the first book in the series.
"Hounded," tells the story of Atticus O'Sullivan, a centuries-old Druid living in modern-day Arizona and doing his best to avoid detection by certain longtime enemies. But it seems his luck has run out, and now he must now call upon a handful of unlikely allies to help him protect a magical sword from an angry Celtic god hell bent on stealing back the weapon for his own evil purposes.
"The 'Iron Druid Chronicles' was originally conceived as a web comic," says Hearne. "So I'm delighted that the story is going to be told in this visual medium with a creative team that can bring the magic to life."
In addition to the eight-book "Iron Druid Chronicles" series—including the most recent book, "Staked," due out January 26, 2016—Hearne's"Heir to the Jedi: Star Wars" novel also spent time on the New York Times bestseller list. He is currently at work on "A Plague of Giants," the first book in the new epic fantasy trilogy titled "The Seven Kennings," set for release in2017.
"It is an honor for us to bring the 'Iron DruidChronicles' series into the realm of comics and graphic novels," says ErnstDabel, president of Dabel Brothers Publishing. "Kevin is an extraordinary storyteller and I am confident that diehard fans and new readers alike will enjoy the adaptations." Adds Dabel, "This is just the beginning. We plan on adding other popular fantasy authors to our graphic novel lineup. Keep an eye on our website, Facebook and Twitter pages for details."
About Dabel Brothers Publishing
Based in Atlanta, Georgia, Dabel Brothers Publishing specializes in the acquisition and development of popular intellectual property licenses. The company is best known for its comic book and graphic novel adaptations of the work of bestselling fantasy authors such as Laurell K. Hamilton, George R. R. Martin ("Game of Thrones"), Charlaine Harris ("True Blood"), Orson Scott Card ("Ender's Game"), Dean Koontz, Robert Jordan, Jim Butcher, Sherrilyn Kenyon and many others, including adaptations of the 1979 cult movie "The Warriors" and Richard A. Knaak's book "Dragonlance: The Legend of Huma." Dabel Brothers Publishing has worked with Image Comics, IDW, Marvel Comics, Dynamite Entertainment, Random House, Harper Collins, Hasbro, and Paramount Pictures.
About Kevin Hearne
Kevin Hearne is an American urban fantasy novelist and the author of multiple short stories and books, including the popular "Iron Druid Chronicles" series. Several of his novels have been featured in the New York Times and USA Today best-seller lists, including "Shattered" and "Tricked," both part of the "Iron Druid Chronicles," and his recent Star Wars novel, "Heir to the Jedi." Hearne is a former high school English teacher and currently lives in Colorado with his wife and daughter.