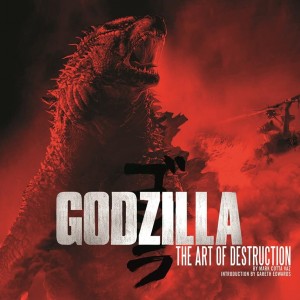 Godzilla: The Art of Destruction
Author: Mark Cotta Vaz. Foreword by Gareth Edwards.
Publisher: Insight Editions
ISBN-10: 1-6088-7344-7
ISBN-13: 978-1-6088-7344-9
Disclosure: A free copy of this book was furnished by the publisher for review, but providing a copy did not guarantee a review. This information is provided per the regulations of the Federal Trade Commission.

This is the official "art of" coffee-table film book of the new May 2014 Godzilla theatrical feature, produced by Legendary Pictures and Warner Bros., and released by the latter. If you have any interest in this particular Godzilla movie, this is a worthwhile, maybe even necessary purchase. If you want information about any of the 28 Godzilla movies produced by Toho Co., Ltd. in Japan since 1954, or the 1998 American theatrical feature by Tri-Star Pictures, you will not find it here. This is not a book about the King of the Monsters over the years.
But for the details about the May 2014 123-minute feature, this book is exhaustive. There is a foreword by Director Gareth Williams, who is quoted throughout the book so extensively that he might as well have been credited as its co-author. Most of the frequent illustrations, many of them full-page, are the production staff's concept paintings rather than photographs from the film, although those are also included, especially of the human cast. In addition to presenting a visual summary of the entire plot, there is a concentration upon the new design of Godzilla, and upon his (its?) monster opponents in this movie, the two giant wasplike MUTOs (Massive Unidentified Terrestrial Organisms).
Read More

»