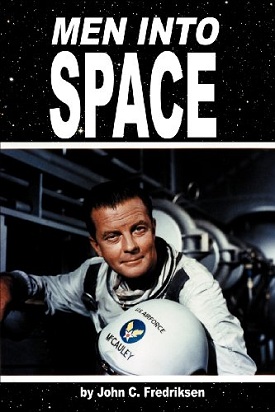 Men Into Space
Author: John C. Fredriksen
Publisher: BearManor Media
ISBN-10: 1-5939-3231-6
ISBN-13: 978-1-5939-3231-2
The 1950s were, practically speaking, the first decade of television. Popular "everybody knows" knowledge is that the first serious science fiction TV program was Rod Serling's The Twilight Zone, from October 1959 to June 1964. Earlier TV science fiction programs like Captain Video, Space Patrol, and Tom Corbett: Space Cadet were for children. Fredriksen, the author of thirty other reference books such as The United States Air Force: A Chronology, points out that earlier TV s-f for adults did exist, such as Science Fiction Theatre (1955-1957). One important but now-forgotten program was Men Into Space, 38 episodes, September 1959 to September 1960.
A major factor that sets Men Into Space apart from all other TV science fiction, then or later, was that it was "hard science" science fiction. Presenting the fictional adventures of astronaut Col. Edward McCauley (played by William Lundigan) in the near future (the 1970s were implied), the program closely forecast the real U.S. space program of the 1960s. Men Into Space built upon the popularization of Lunar and Martian space exploration in the 1950s through books and magazine articles by such experts as Wernher von Braun and Willy Ley, and the "Tomorrowland" episodes of Walt Disney's TV series. The program consulted closely with the U.S. Air Force as an advisor, and "The Air Force retained supervisory control of scripting and insisted that all episodes depict the American space effort in a strictly realistic vein. No bug-eyed monsters or mad scientists were permissible, so story lines invariably turned on conflict arising from faulty equipment or personality clashes among crewmen." (pgs. 7-8) Chesley Bonestell, the noted astronautical and astronomical artist who illustrated many popular 1950s articles on space exploration for magazines like Collier's, designed the space and Lunar sets and the spacecraft for Men Into Space. Guest stars in the 38 episodes, appearing in one episode each, included Robert Vaughn, James Coburn, Werner Klemperer, Whit Bissell, James Drury, Gavin MacLeod, and many others who became better-known actors during the 1960s and 1970s.
Fredriksen first presents a general history and overview of the program and its production company, ZIV (Ziv Productions), followed by profiles of the "Cast and Crew": a lengthy biography of Lundigan, shorter biographies of the actors who played his wife and son, the program's producer, set designer (Bonestell), and composer, and the real Convair Atlas rocket that was the model for the program's fictional spaceships. Each profile includes one or more publicity photographs and its own bibliography.
All the foregoing are on pages 1 to 36 of this 314-page book. "Episodes" are the main feature, from page 39 to 291. Each of the 38 episodes is given a usually-seven page profile that includes a still, the episode title, air date, list of actors and their characters, script author, director, technical advisor (a U.S.A.F. officer), and a long (usually five pages) plot synopsis. There are two appendices; a July 2012 interview by Fredriksen of William Lundigan's daughter, and a photogallery of the program's few children's merchandising items. There are six pages of Endnotes and a Name Index.
This is one of those "all you want to know" books about its subject. Men Into Space was a minor program on the list of all the TV science fiction programs there have ever been. But it will always be known for its presentation of "real" or "hard" science astronautics, as distinct from the other programs that featured robots, Earth-conquering aliens, fanciful views of the far future and other planets, cinematic adaptations of prominent literary s-f stories, and the like; including today's TV s-f which mixes s-f elements with werewolves, vampires, and zombies. Buy wherever there is any interest in Men Into Space itself, in TV science fiction, in TV productions of the late 1950s-early 1960s, or in American history of the 1950s Space Race period.