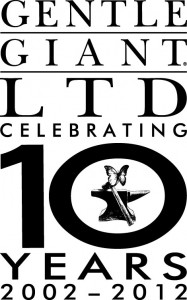 I had the pleasure of meeting with Greg Crafts, Marketing Coordinator with Gentle Giant Ltd., to find out about the latest happenings  at the company and how it meshes with book and  other media tie ins.
The highlight of my tour was an introduction to Gentle Giant's first in house created intellectual property called HONEY TRAP. The intial line features five female figurines – Fireball, Lucky, Whisper, Kat-Ya, and Derby. Gentle Giant knew they had a strong group of designers and scultptors in-house, and tasked them with this challenge – "hot chicks with big guns – go!" – which resulted in these first five of what Gentle Giant hopes will be an extensive line. Each character has a unique backstory but they are also all part of the same universe. Right now they are being featured in figurine form only, but when I asked Greg Crafts if any other mediums would be used to pursue telling their stories, he said that they were opening to partnering with all mediums including "movies, comics, and television" just to name a few. Kevin Dart is the visionary behind the HONEY TRAP concept art, and Gentle Giant also partners in return by doing figurines of some of Kevin Dart's original concepts.
Marvel characters and STAR WARS are two prominent licensees for Gentle Giant. They have figurines such as Iron Man in a version that lights up, or a bust of Hawkeye that has 10 different arrows that can be swapped out, and all items show such an attention to detail. Similar commments can be made for the Clone Wars version of Darth Maul, and the wide assortment of  Star Wars merchandise for which the mini busts are Gentle Giant's "most popular collectibles'" per Greg Crafts.  People who grew up on the original  figures may fall in love with the Kenner 12″ replicas series Gentle Giant has, for which a proper scale Cantina playset is anticipated this holiday season. One very popular figure is  the Death Trooper from the Star Wars Expanded Universe series of books, which has now been done in three different ways because each collecctible is only released in one batch so when there is demand for a characcter they do it in another fashion. When I asked why this particular figure was so popular, Greg Crafts said, "Star Wars and Zombies, how can you miss?"; we went on to discuss what drives demand to own characters from books and media, to which he said, "they want to see it" and if we "do a good enough job" Gentle Giant can win trust and loyalty. One other point of interest to bibliophiles is Gentle Giant also does bookends based on Marvel characters and STAR WARS, and in the case of the Marvel characters, they can detach from the bookends and display separately.
THE WALKING DEAD comic is a new licensee for Gentle Giant, and with it they plan several new approaches. They are planning to release the figures more like old style Army men including large quantity packaging  where they will "come in big bags," according to Greg Crafts. Bookends based on THE WALKING DEAD are also available. Also another new area here is prop replicas, where they are starting with the sheriff's badge.
Busts from THE HOBBIT – for which their film arm Gentle Giant Studios helped with post-production – also were on display. Thorin, Dwalin, Gollum, and Gandalf all could be seen, and Greg Crafts mentioned "a great partnership with WETA" along with support from Warner Brothers to get these items marketed. Greg Crafts agreed that the passion we discussed about wanting to see it in relation to the STAR WARS universe also came into play here.
After showing off the last two HARRY POTTER busts planned for release – the Series 7 Harry and Voldemort – the final  highlight of the tour were Christmas ornaments designed to celebrate the 50th anniversary of the MARS ATTACKS trading cards from Topps. Featured is a cardpack so detailed it even has the legalese on the back. Greg Crafts said it was "great to be a part" of a tribute to this classic property.
Thank you to Greg Crafts for letting AmoXcalli be a part of Gentle Giant's celebration of ten years. Keep following Shannon Muir's "Professional to Professional" series for more Comic-Con highlights!