Global Market Forum 2012 sheds light on principal emerging market in the fast
globalization of the book
Norwalk, CT, March 28, 2012: Russia, rich in literary tradition and known for being one of the most well-read societies, has a robust publishing industry and a growing digital audience. Analysts estimate that the valuable Russian marketplace has consumer sales of $3.3 billion and is home to a diverse group of authors and dynamic publishing programs, offered by large, medium and independent publishing houses. Russian publishers, authors and booksellers are finding new readers, new partnerships and they are creating an international buzz.
BEA's Global Market Forum Read Russia – a one-day conference on Monday, June 4, 2012 – offers an exciting and broad publishing agenda that will introduce, inform and ignite interest in Russian publishing. Expert speakers, including the CEOs of the largest Russian publishers and distributors, will share their knowledge and insight on everything Russian, with sessions focused on writing and translation, educational and digital publishing, intellectual properties and copyright issues.
Each presentation and discussion will bring together key industry voices from both the Russian and US publishing communities. Sessions will be 50-minutes in length and allow time between for networking opportunities to build new business contacts! Agents, editors, publishers, booksellers and librarians, will have the opportunity to immerse themselves in the many sessions, dialog and innovative directions of the Russian book and publishing community.
Read More

»
Since 1996, the Academy of American Poets has spearheaded the initiative National Poetry Month to increase appreciation and awareness of poetry as an art form. Here is a sampling of places in the Los Angeles area offering events during April related to poetry:
APRIL 1
Local poets from the Los Angeles area will read from  Walt Whitman's Leaves of Grass on Sunday, April 1st from 4:00 pm to 6:00 pm at Skylight Books.
APRIL 4
Ghassan Zaqtan reads from his work Like a Straw Bird It Follows Me in the Powell Library Rotunda at UCLA Library at 4:30pm.
APRIL 10
Peggy Dobreer and Eric Morago read and sign their poetry collections April 10th at 7:30 pm at Skylight Books.
APRIL 12
Wislawa Szymborska reads her poetry at the Hammer Museum starting at 7pm.
APRIL 15
Free poetry workshop taught by Terry Wolverton at Skylight Books. Advance signup required.
Vroman's features Red Hen Press presents Ron Carlson and Sandra Gilbert starting at 3:00 pm.
APRIL 27
Students from Williard School present a poetry recital and art exhibit at Vroman's beginning at 6:00 pm.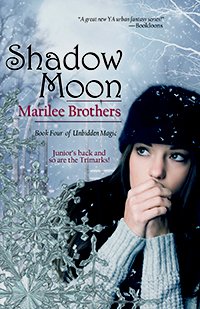 SHADOW MOON (BOOK 4 OF THE UNBIDDEN MAGIC SERIES)
Author: Marilee Brothers
Publisher: Bell Bridge Books
ISBN: 10: 1611940583
ISBN: 13: 9781611940589
ASIN: B0065QZVN4
This is the fourth in a series of five books (the last one forthcoming) by Marilee Brothers about a young woman named Allie living with her single mom who receives a magic moonstone pendant from a rich old woman of Gypsy descent in her small Central Washington town. Initially, she wants nothing to do with the pendant or its powers, but over time has come to learn to accept the abilities an ancient prophecy says are meant for her and trying to figure out everything she can do. She also works on finding her previously unknown father and learning hidden secrets abotu her family. In this particular book, Allie searches for a twin sister she never knew she had while being strongly pursued by people who say they are with the government and want her to team up with them for the best interests of the country. Allie also has a group of boyfriends including a half-demon, a Fae prince, and a former Mexican gang member turned telenovela star (a nod to the fact that the series reads like a daytime drama with its twists and turns that happens to be packed with magic which is part of the fun of it). This particular book brings together a lot of dangling threads left from the first book in particular, in a series that must be picked up from the first book forward and read all the way through in order to appreciate. Some parts of the plot quickly became easy to anticipate and others proved surprises; complicated and convoluted at times, brilliantly clear and simple at others, this series reads just like a teen soap opera on the printed page and results in a fun if not deep read.
Even though this review focuses on the most recent book, all titles in the series were read in order to provide a complete review.
A free copy bundle of Books 1 through 4 of this series was furnished by the publisher for review via NetGalley, but providing a copy did not guarantee a review. This information is provided per the regulations of the Federal Trade Commission.
Also part of the UNBIDDEN MAGIC series –
MOONSTONE (BOOK 1 OF THE UNBIDDEN MAGIC SERIES)
Author: Marilee Brothers
Publisher: Bell Bridge Books
ISBN: 10: 0980245346
ISBN: 13: 9780980245349
ASIN: B001Q9EKLY
MOON RISE (BOOK 2 OF THE UNBIDDEN MAGIC SERIES)
Author: Marilee Brothers
Publisher: Bell Bridge Books
ISBN: 10: 0982175698
ISBN: 13: 978-0982175699
ASIN: B0039M97TQ
MOON SPUN (BOOK 3 OF THE UNBIDDEN MAGIC SERIES)
Author: Marilee Brothers
Publisher: Bell Bridge Books
ISBN: 10: 1935661957
ISBN: 13: 978-1935661955
ASIN: B003XF252K
Both Amazon and Barnes and Noble announced today that all of the Harry Potter Books are available as ebooks for their Kindle and NOOK devices, respectively. At Amazon, titles must be purchased by creating an account first at Pottermore – the free-to-use "online experience" themed around the world of Harry Potter – and going through their buying processes. For NOOK, the e-books can be found through regular searching but clicking "Buy Now" ultimately redirects you to register through Pottermore and use their buying system.  Pottermore is an environment where the digital world brings lovers of the Harry Potter books and lore together to share their common experiences, as well as gain new insight and information provided directly by author J.K. Rowling.
March 22, 2012
LOS ANGELES — The 17th annual Los Angeles Times Festival of Books, the largest and most prestigious public literary event in the country, today announced its 2012 program schedule. Returning to the beautiful University of Southern California campus on April 21-22, the Festival is an L.A. institution known for its celebration of the written word in all its forms and is expected to draw more than 150,000 attendees.
Beloved American icon Judy Blume will mark the 40th birthday of her cherished "Tales of a Fourth Grade Nothing" with an appearance, alongside such authors and artists as Kareem Abdul-Jabbar, Julie Andrews, Reza Aslan, Michael Ian Black, T.C. Boyle, John Cusack, Ben Fong-Torres, John Green, Florence Henderson, Ricki Lake, Sugar Ray Leonard, Anne Rice, John Scalzi, Molly Shannon, Wil Wheaton, Betty White and Henry Winkler.
Lively panel discussions will be held covering a broad range of thought-provoking and culturally significant topics, from the upcoming presidential election to the anniversary of the Rodney King trials to the future of reading, many involving appearances and moderating by Times writers and editors. The Times' Hero Complex, the go-to for all things super-heroic, fantasy and sci-fi, will expand to include screenings of genre films at USC's School of Cinematic Arts and Q&As with prominent comic book publishers. Celebrity appearances, live music, cooking demonstrations, book signings and much more will be held on eight outdoor stages surrounded by hundreds of exhibitors and a variety of dining options.
Tickets available today
Festival general admission is free / panel discussions and lectures have limited seating capacity, and therefore require tickets

Special advance panel passpackages are available before tickets are offered to the general public. These are $30 and include:

Reservations for up to eight panel tickets
Half-price tickets to the 32nd annual Los Angeles Times Book Prizes

Friday, April 20 at USC's Bovard Auditorium

Official 2012 Festival of Books' poster with artwork designed by prominent illustrator Bob Staake
Option to purchase valet parking passes for an additional $20

Los Angeles Times members have the opportunity to purchase panel passes and Book Prizes tickets at a 50% discount while supplies last
Book Prizes tickets are $10
Individual panel tickets available Sunday, April 15
Please check the Festival's official Facebook page and @latimesfob Twitter stream for programming updates. To join in the Twitter conversation, use the #bookfest hashtag. The Los Angeles Times Festival of Books is presented in association with USC, presenting sponsor Target and major sponsor Chevrolet.
###
About the Los Angeles Times Festival of Books
The Los Angeles Times Festival of Books was created in 1996 to promote literacy, celebrate the written word, and bring together those who create books with the people who love to read them. More than 140,000 people attend the event annually. General event information is available online at latimesfestivalofbooks.com or by calling 1-800-LA TIMES, ext. 7BOOK. Detailed speaker and event information is available in the official festival program online.
About the Los Angeles Times
The Los Angeles Times is the largest metropolitan daily newspaper in the country, with a readership of 1.9 million Monday through Saturday and 2.9 million on Sunday, more than 17 million unique latimes.com visitors monthly and a combined print and online local weekly audience of 4.4 million. The Pulitzer Prize-winning Times has been covering Southern California for more than 130 years.
The Los Angeles Times Media Group (LATMG) businesses and affiliates include the Los Angeles Times, The Envelope, Times Community News, LA, Los Angeles Times Magazineand Hoy Los Angeles and reach approximately 5.1 million or 38% of all adults in the Southern California marketplace. LATMG also owns and operates California Community News as well as Tribune Direct's west coast division and is part of Tribune Company, one of the country's leading media companies with businesses in publishing, the Internet and broadcasting.Additional information is available at http://latimes.com/aboutus.
About the University of Southern California
Established in 1880, the University of Southern California is one of the world's leading private research universities. The university is the largest private employer in Los Angeles — with more than 22,700 employees, and an annual economic impact of nearly $5 billion. USC enrolls 38,000 students at the undergraduate, graduate, and doctoral levels, and hosts more international students than any other U.S. university. With a strong tradition of integrating liberal and professional education, USC fosters a vibrant culture of public service and encourages students to cross academic as well as geographic boundaries in their pursuit of knowledge. There are more than 240,000 living alumni in the Trojan Family. While nearly three-quarters of them live in California, USC alumni can be found in positions of leadership all over the world.
SOURCE: Los Angeles Times Media Group
Press Release
March 21, 2012
Washington, DC…The National Archives today is releasing its latest Inside the Vaults video short, Boxing our Treasures, which takes viewers inside the National Archives preservation lab to see how archival treasures are lovingly and carefully housed in custom-made encasements. The three-minute video is part of the ongoing "Inside the Vaults" series and can be viewed on the National Archives YouTube channel:  http://tiny.cc/BoxesA2
The film series is free to view and distribute on our YouTube channel at http://tiny.cc/Vaults. These videos are in the public domain and not subject to any copyright restrictions. The National Archives encourages the free distribution of them.
National Archives senior conservator Gail Harriman explains the importance of such custom-made boxing: "About 60% of the holdings require some level of preservation. A great deal of that can be solved by proper housing." A custom box, what Harriman calls a "microenvironment," is a common preservation strategy.
Viewers get special access to the preservation lab at the National Archives where specialists construct custom boxes for items as varied as a Cold War-era pistol and a 1761 Indian treaty. The boxes can be simple affairs, built to house a book – or extremely complex, holding multiple, related items in multi-chambered constructions.
Conservation technician Richard Hnat shows how items are digitally measured and conservation specialist Doug McRae shows how those measurements are translated into custom instructions for the Archives' automated box-making machine. Harriman explains that the materials used to construct housings meet rigid archival standards: they must be acid free, lignin free, be made of high cotton content, and have both fold and burst endurance.
Background on "Inside the Vaults"
"Inside the Vaults" is part of the ongoing effort by the National Archives to make its collections, stories, and accomplishments more accessible to the public. "Inside the Vaults" gives voice to Archives staff and users, highlights new and exciting finds at the Archives, and reports on complicated and technical subjects in easily understandable presentations. Earlier topics include the conservation of the original Declaration of Independence, and the 1297 Magna Carta, the transfer to the National Archives of the Nuremberg Laws, and the launch of a new National Archives user-friendly search engine. The film series is free to view and distribute on our YouTube channel at http://tiny.cc/Vaults
Created by a former broadcast network news producer, the "Inside the Vaults" video shorts series presents "behind the scenes" exclusives and offer surprising glimpses of the National Archives treasures. These videos are in the public domain and not subject to any copyright restrictions. The National Archives encourages the free distribution of them.
Norwalk, CT–March 19, 2012:   Officials at BookExpo America (BEA) have today announced that Neil Young will be appearing at the annual book industry trade show where he will discuss his upcoming memoir, Waging Heavy Peace.  The book will be published in North America by Blue Rider Press, a member of Penguin Group (USA), in fall of 2012.  BEA will take place in New York City at the Jacob Javits Center June 4 – 7, 2012 and Mr. Young is scheduled to speak on Wednesday, June 6 at 12 noon in the Special Events Hall.  The program, which will be called "A Conversation with Neil Young", will follow an interview format and will be free to all convention attendees.  Seating will be provided on a first come, first served basis.  Lunch will not be provided but guests are free to bring their own lunch.   Mr. Young's interviewer will be named in the near future.Widely regarded as one of the most influential musicians of his generation, Mr. Young is a singular figure in the history of rock and he has profoundly influenced popular culture over the past four decades.  He epitomizes the uncompromising artist.  In his book, Mr. Young will present a kaleidoscopic view of his personal life and musical creativity.  It is the year's most awaited memoir and rights to the book have been sold around the world to a dozen countries so far including: Brazil, Canada, Finland, France, Germany, Holland, Italy, Japan, Norway, Spain (and Spanish language in Latin America), Sweden and the United Kingdom.
"I am profoundly grateful to Blue Rider and to Neil Young for making this stellar event possible," notes Steve Rosato, Show Manager for BookExpo America.  "This appearance will be a highlight of our show and I am sure it will live on as one of our great all time moments in BEA history.   I have no doubt that on Wednesday, June 6 at 12 noon just about everyone in the Javits Center will be packed into the Special Events Hall!"
For more information about BEA, please visit www.bookexpoamerica.com and connect with BEA on Twitter, Facebook, LinkedIn and YouTube.
ABOUT BOOKEXPO AMERICA:
BookExpo America (BEA) is North America's largest gathering of book trade professionals attracting an international audience. It is organized with the support of association partners including the Association of American Publishers (AAP) and the American Booksellers Association (ABA).  BEA is recognized for the media attention it brings to upcoming books as well as for the notable authors it attracts to the convention itself.Reed Exhibitions is the world's leading events organizer. In 2007 Reed brought together over six million industry professionals from around the world generating billions of dollars in business. Today Reed events are held in 38 countries throughout the Americas, Europe, the Middle East and Asia Pacific, and organized by 39 fully staffed offices.  Reed's portfolio of over 500 events serves 47 industry sectors.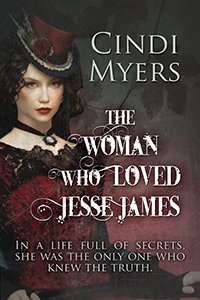 The Woman Who Loved Jesse James
Author: Cindi Myers
Publisher: Bell Bridge Books
ISBN: 10: 1611940826
ISBN: 13: 978-1611940824
ASIN: B0072NM18W
Jesse James is heralded as one of the most notorious outlaws in American history, but much less discussed is the fact he had a wife and children and what life must have been like for them. Cindi Myers as an author puts herself in the shoes of the kind of woman who would fall for a slightly younger man and stick with him no matter the deception and danger, who is his cousin Zee Mimms, and try to depict based on known history what Zee may have been like. What excited me was that the book covered so much more than watching Jesse James from a pair of female eyes. There are periods of the book where Jesse is away for various reasons, and readers are allowed to explore Zee finding her place as a woman even when it didn't fit the expected societal norms. You see why she's willing to stand by Jesse James and how it is much more complex than following him like a blind sheep, and yet the very qualities that embody her resilence are also in some ways character flaws. I also appreciated that the book focused on the home life and character of Jesse James, and his exploits only discussed when people noted rumors or read newspapers, so that when the inevitable ending comes you do feel sympathy for both Zee and Jesse. While likely not completely historically accurate and a bit embellished, the result remained an incredible story about character that I struggled to put down because I didn't want to stop reading.
Please be advised that there are some physical intimacy scenes that are necessary to the plot and written tastefully.
A free copy of this book was furnished by the publisher for review via NetGalley, but providing a copy did not guarantee a review. This information is provided per the regulations of the Federal Trade Commission.
Isn't it wonderful when you meet another book lover?  That person whose eyes light up when you talk gibberish about the smell of ink on a page, the crack of a spine in a new book, a treasure you find on a dusty stack in a used bookstore?  Book people are special and it has been my great good fortune to have been surrounded by them most of my adult life. It wasn't always that way…I'd talk about books and get the glazed eye zombie look.  Yeah, seriously there are people out there who (brace yourself ) DON'T LOVE READING! Whenever I meet a book person, I know that we'll be lifelong friends.  I know that sounds Pollyanna of me (clever book reference), but it's true.  Book people are incredibly loyal and make the best friends.
When I first met Shannon Muir, she was applying for a job at a company where I was then GM of.  I liked her very much and after she came to work with us, I found out she was a book person.  Even better, she was a writer/author with a love of comics that rivaled mine.  Over the years, we've stayed in touch but lately got to re-connecting and talking about reviewing.  It had simply never occurred to me before that she'd be interested in reviewing for AmoXcalli and I'd been looking for contributors for a long time.  I'm thrilled and honored she's decided to come aboard and review here.  AmoXcalli will be all the better for her contributions.
Welcome Shannon!
—-
Hi, I'm Shannon Muir, and I'm glad to be a part of this incredible blog about books. A few years ago, I met Gina Ruiz when we worked at the same company. While my time there proved short-lived due to the company deciding what direction it wanted to go in, I knew even then about Gina's strong passion for books. Over the years, though we went in different directions, we never completely lost touch. Recently, things aligned again in a way that allowed me to bring my writing and reviewer skills to team up with my good friend Gina on Amoxcalli. I look forward to bringing you reviews and articles about things going on all over the book space as this medium changes and evolves, and yet the printed word endures. Please see my bio page on Amoxcalli for additional information about me if you're interested.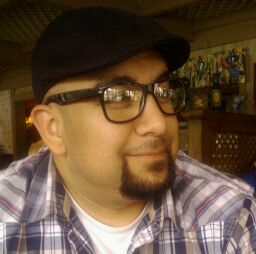 Meet Art Meza, who works at the circulation desk at Cypress Park Library in the heavily Latino community in Northeast Los Angeles, not far from Dodger Stadium.  Cypress Park is surrounded by hills on one side and railroad tracks on the other.  It's a working class neighborhood, mostly Hispanic and boasts a strong community.  Census data shows it's predominantly Hispanic at 81%.  The library is active in their community, going out to schools to read to the children and recently, with the arrival of Meza, getting lively on social media.
Meza started a Twitter account for the library, @CypressParkLAPL and is working on getting them into Facebook as well.  They have a Google Plus account and he's posting away.  Art cares passionately about his job.  He cares about the community he works in, cares about literacy and cares about this little library.  He's become their champion, Tweeting at people like Luis Urrea, Ozomatli and Luis J. Rodriguez to try and get them involved donating time to the library.
Meza is organizing things like the recent Strike a Reading Pose, where he asks people to send in a photo of themselves reading.  He's actively getting the community at large involved and into the library.  There's an open mike night coming up with Mike de la Rocha and other future events he's planning. He has no map, no experience in PR or Marketing, but he's making it happen for this library out of sheer heart and soul.  If you're in Los Angeles, head on over and see what you can do to support Art and his library.
I first met Art Meza on Twitter many months ago and was amazed at his devotion to promoting literacy in his community.  I started to re-tweet his tweets and we became friends who chat daily.  I love reading his blog, which of course plugs the library a whole lot.  Today, I made my way down to his library to meet him in person.  We had lunch first, then stepped into the library.  He showed me around the library and introduced me to the amazing people that work there.  For me, librarians and others that devote their time to books are a combination of saints, angels and all things good.  As I walked around, I noticed a few things.  There were empty shelves, lots of them and the ones that had books on them had way too many spaces and gaps. They need books.
I asked Art's boss if they had a budget to send Art to BEA.  They don't.  Art isn't a librarian and if there were funds, they wouldn't be for him, they'd be for someone else.  Personally, I think someone needs to sponsor Art and Anna because I don't think you will find a couple more devoted to the library and to literacy.  Art's boss informed me that they do accept donations and if I knew of anyone who wanted to donate them to please let them know they'd gladly accept them.  No, this doesn't mean run over with your ninety-nine boxes of Harlequin Romances that you supposedly "found" in your grandmother's rusty shed.  No, this library needs children's books.  They need graphic novels.  They need all the Cybils, Caldecott, Newbery winners.  They need new books, engaging books, Latino books and mostly bilingual books.  They need poetry, they need cookbooks, they need books for the children here to educate themselves, they need books that will make a child dream big and fly high.  They need books.  They need help.  There are empty shelves that need filling.  I counted less than ten poetry books and that made me cry.
Art is trying to do it all.  He's actively on Twitter, promoting his beloved library, trying to get people involved. He's started a blog for it and even a Pinterest.  His lovely wife Anna, also works hard to promote the library and literacy in the Latino community at large, even though she doesn't work in the library system.
If I lived in this community, I'd be so grateful for Art Meza and all he is trying to do to save his library.  The latest I hear, he may start a vlog with his co-workers going out into the community to read to the elderly.  He going to try to get library patrons involved in a community outreach, a read to your community night where the people from the community go out and read to people that live here.
Someday, not too far in the future, there will be a grownup who reflects on what pushed him towards education, the great job he/she has and a life possibly far away from this small community.  He or she will remember that it was this crusader of Cypress Park that fueled his/her dreams with books, with action, with non-complacency.  He or she will remember Art Meza and how he spent his time changing lives, one book at a time.
Note:  This library needs books – donate one or donate one hundred, but please – send them a book.   Their future and the future of this community depends upon us, the community at large.  We are the future of libraries since economic cutbacks are doing their best to eliminate this finest of American institutions.