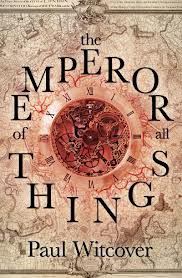 Author: Paul Witcover
Publisher: Random House UK, Transworld Publishers
Bantam Press
Book Description from the publisher:
Tempus Rerum Imperator: Time, Emperor of All Things
1758. England is embroiled in a globe-spanning conflict that stretches from her North American colonies to Europe and beyond. Across the Channel, the French prepare for an invasion ? an invasion rumored to be led by none other than Bonnie Prince Charlie. It seems the map of Europe is about to be redrawn. Yet behind these dramatic scenes, another war is raging – a war that will determine not just the fate of nations but of humanity itself…
Daniel Quare is a journeyman in an ancient guild, The Worshipful Company of Clockmakers. He is also a Regulator, part of an elite network within the guild devoted to searching out and claiming for England's exclusive use any horological innovation that could give them an upperhand, whether in business or in war.
Just such a mission has brought Quare to the London townhouse of eccentric collector, Lord Wichcote. He seeks a pocket watch rumoured to possess seemingly impossible properties that are more to do with magic than with any science familiar to Quare or to his superiors. And the strange
timepiece has attracted the attention of others as well: the mysterious masked thief known only as Grimalkin, and a deadly French spy who stop at nothing to bring the prize back to his masters. Soon Quare finds himself on a dangerous trail of intrigue and murder that leads far from the world he knows into an otherwhere of dragons and demigods, in which nothing is as it seems . . . time least of all.
****************
Be prepared for lush, evocative language that makes you want to linger on the page, hesitant to turn to the next just so you can savor it. Paul Witcover's prose is poetic and beautiful. I fell so deeply in love with the language, with the construction of his sentences that I almost forgot to read the story. Almost. There is a STORY here. A great one really. One that has you as riveted and extraordinarily fascinated with the workings of clocks.
"The ticking of so many timepieces, no two synchronized, filled the space with a facsimile of whispered conversation, as if some ghostly parliament were meeting in the dead of night."
The fantastical England Wicote writes of is completely wonderful, an 18th century England that you completely believe in. You could swear you read about the Worshipful Company of Clockmakers in a long-forgotten history book and you'll be scratching your head wondering just where. It is the kind of book that grabs you and makes you a part of its world. It's clever, intricate and maddening in its twists and turns, as mazelike as the tunnels Quare is led through under the streets.
Read More

»