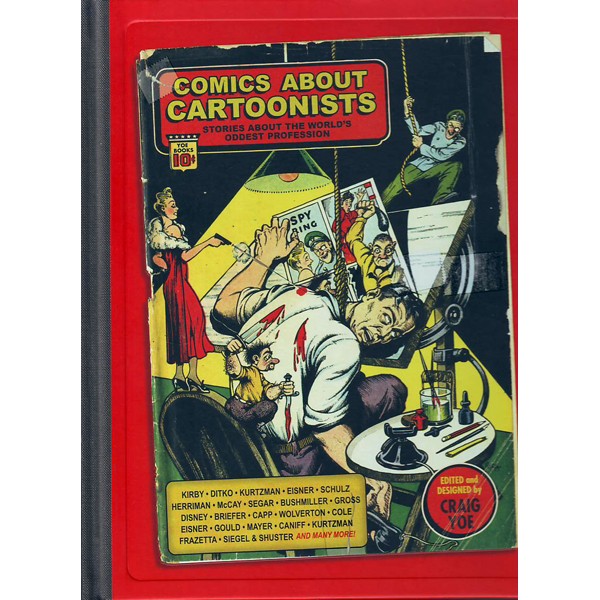 Comics About Cartoonists: Stories About the World's Oddest Profession
Editor:  Craig Yoe
Publisher:  IDW Publishing
Language:  English
ISBN-10:  1-613-77346-3
ISBN-13:  978-1-613-77346-8
This is indeed an odd tome.  It is a 229-page anthology of newspaper and comic book cartoonists drawing about their profession.  Not "how to draw" lessons, either.  Editor Yoe has combed the archives of old newspapers and comic books from roughly 1910 to 1960 and found "funny drawings" in which the cartoonists (sometimes working with scripts by others) have depicted stories about the cartooning profession.  The reprinted newspaper strips are usually in black-&-white as they were published; the comic-book reprints are in full, garish color.
Many of the comic-book stories are about cartoonists who draw themselves into their own stories.  These range from realistic art – the "Inky" Wells cartoonist who falls in love with his model, from a 1955 romance comic, looks just like comic-book artist Jack Kirby, whose photograph is well-known – to the fanciful – surely funny-animal cartoonist Al Stahl (1958), who draws himself falling asleep at his drawing board and falls into his world of talking rabbits and policeman lions, did not really look like something out of a carnival funhouse's distorted mirror.  Most of the comic-book stories are six or eight pages.  Famous newspaper cartoonists Milton Caniff ("Terry and the Pirates"; "Steve Canyon") and Chester Gould ("Dick Tracy") are present in one-page promo autobiographies in which they have drawn themselves in the style of their heroes.  Bud Fisher ("Mutt and Jeff, 1919) draws himself getting contradictory demands from his editors for six panels ("More Republican jokes; No, more Democratic jokes; Ridicule the Bolsheviks; Lay off the Russians); in the seventh panel he commits suicide.
Read More

»