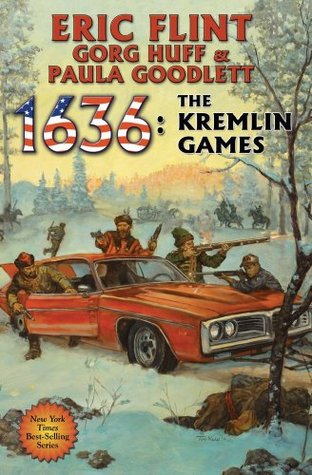 636: The Kremlin Games
Author:  Eric Flint, with Gorg Huff & Paula Goodlett
Publisher:  Baen Books
ISBN-10:  1-4516-3776-4
ISBN-13:  978-1-4516-3776-2
It's wonderful for an author when a novel is not only successful, it can be turned into an industry.
Eric Flint wrote 1632, the first in his Ring of Fire series, in 2000.  In it, a modern small West Virginia town of about 3,000 people and its surrounding six miles are transported by "a cosmic accident" back to 1631 northern Germany, in the midst of the Thirty Years War.  The inhabitants of Grantville are hard-pressed to remain out of the fighting, and unannexed by the duke of Saxe-Weimar.  Although the West Virginians soon run out of the gasoline and electricity to power their 20th-century marvels, there is enough to convince the 17th century heads of state that they really are from the future.  The Americans try to introduce 20th-century democracy three centuries early, while the 17th-century rulers – King Gustavus Adolphus of Sweden, Christian IV of Denmark, Cardinal Richelieu, umpteen petty German dukes and electors and margraves, the Holy Roman Emperor, the Pope, etc. – try to figure out how to take advantage of futuristic technology without losing their thrones.  Within months, events are so changed that what the Americans know about future world history is no longer valid.
1632 was not only popular, it brought lots of fan mail to Flint suggesting how the future might be changed this way or that way.  Flint has swept all of his fans under his wings, encouraging them to suggest sequels and to write their own Ring of Fire short fiction.  Flint has taken the best ideas and turned them into novels, written in collaboration with his readers who suggested them.  1636: The Kremlin Games is the 14th novel co-written by Flint and others in the series, while the best of the short stories and novelettes have been collected into Ring of Fire (three volumes) and The Grantville Gazette (six volumes so far.)
1636: The Kremlin Games introduces a new protagonist and locale.  Bernie Zeppi is an average guy from the 20th century, not one of the politicians who are trying to set up a United States of Europe, or a skilled mechanic who can maybe recreate some piece of 20th century technology out of what the 17th century has available.  But he is available when a delegation comes from far-off Muscovy in late 1631 to offer great pay for one of the American wizards to drag the feudal Russian court kicking and screaming into the future.  Even updating to the standards of 17th century Western Europe would be an improvement.  Bernie figures that he can accomplish at least that much, so he blithely accompanies the envoys to Moscow.
What he does not count on are the Byzantine plottings of the boyars of the court of Mikhail I.  It is impossible to please one nobleman without making several political enemies.  Bernie is horrified by the state of public health in 1630s Russia.  Even if he knows nothing about how to recreate 20th century technology, he can introduce modern sanitation.
Despite the 1636 title, this novel also begins in 1632.  Bernie settles into life in 17th-century Russia.  He gradually makes friends with one fairly powerful family, the Gorchakovs.  Since Czar Mikhail officially approved bringing Bernie to Moscow to modernize Russia, nobody openly opposes him, but the Gorchakovs' influential enemies have their knives' out to sabotage Bernie's improvements, or to try to take credit for them themselves.  Prince Vladimir Gorchakov, the Russian nobleman who led the delegation to Grantville that recruited Bernie, stays in Grantville to send what 20th-century books and technology he can copy back to Moscow.  Vladimir gradually makes social ties with the American community and marries into it.
As much as 1636 is a novel about its cast, it is a sugar-coated  education for modern readers into the culture and sociology of 17th-century Russia.  There are also concentrated glimpses of the technological improvements that Bernie tries to introduce.  Sanitation is pretty obvious with all of the uptime medical textbooks agreeing on its importance, so he has little trouble getting that adopted.  The czar's court wants the 20th-century airplanes that they have heard about.  Bernie hasn't the slightest idea how to build an airplane, and 17th-century Russian technology would not be up to it in any case; but what about dirigibles?  They're just big gasbags filled with hydrogen, aren't they?  Bernie doesn't know much about firearms, either, but he can kibitz what the Russian gunsmiths are making.  He makes converts:
"Daniil Kinski set the butt of the AK3 on the ground and the tip of its barrel came not quite to his shoulder and Daniil Kinski was a short man.  If any of them had been familiar with the up-time weaponry, they would have thought of the AK3 as the illegitimate child of a Kentucky long-rifle and a Winchester 73.  Like the long-rifle, the AK3 was a flintlock, and like the Winchester it had a lever action.  But the AK3 had a removable firing chamber.  Daniil lifted the AK3 and showed them how the chamber was removed.  He opened the lever action chamber lock and pulled out the chamber." (p. 269)  The demonstration's tech-talk goes on for another page, and the Russian military is indeed impressed.
In 1634 Poland invades Russia.  (Not in our history.)  This puts Bernie and his supporters into a put-up-or-shut-up position.  For the fans of military fiction, the story follows a small cast of fictional soldiers in detailed maneuvering through 17th-century sieges and battles.  Military events lead to political influences.  Soon Bernie and his friends realize that they are no longer controlling Russia's modernization, they are being controlled by it.  The modernization, rather the changes brought about by the attempts at modernization, have gotten out of anyone's control.  The year 1636 does not come into the novel until page 327, just in time for a slam-bang climax that has Bernie and his closest Russian friends fleeing from Moscow in a 1972 Dodge Charger!  Flint and his co-authors clearly know their 17th-century Eastern European history in detail, and make believable guesses at how the knowledge of 20th-century sociology and technology might affect the rigid Russian aristocracy, in a lively alternate-history novel.