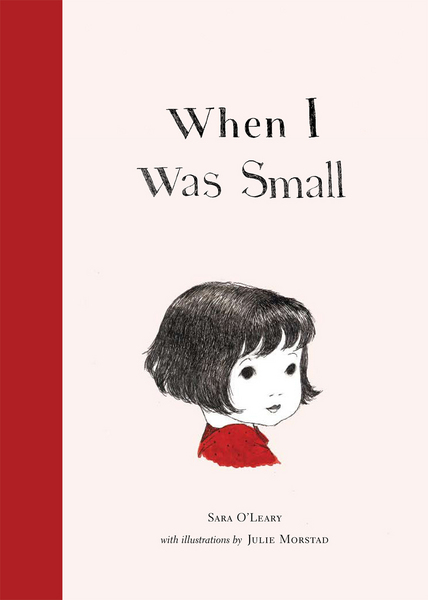 When I Was Small
Author: Sara O'Leary
Illustrator: Julie Morstad
Publisher: Simply Read Books
ISBN-10: 1897476388
ISBN-13: 978-189-7476383
It is books like this one that reminds me of why I adore picture books and love to review them.  There is something about children's literature that just oozes joy and wonder when a book is done well. Simple illustrations and spare but eloquent writing can convey so much. WHEN I WAS SMALL does this beautifully.
The story begins with Henry, an adorable little boy that looks remarkably like my grandson Aiden (which instantly made me love him) asking his mother to tell him a story about when she was small. What follows is a charming and fanciful story about a very tiny, Thumbelina-sized tiny girl.
The language is simple and concise, letting the ethereal and powerful illustrations do most of the telling. The illustrations, done in pen and ink have this Old World feel to them and makes me think I'd stumbled across the book in a used book store. It's got this vintage look and feel and has a dreamlike quality.
Each page is such a pleasure to read and look at. The reader is tempted to linger and examine the drawings. When I read it to Aiden and his sister Jasmine, they both asked me to read it again and again. Jasmine really loved a drawing of Henry's very tiny mother feasting on a very large raspberry, while Aiden loved the illustration of her being borne away in the mouth of a cat.
Both children and parents will love this book. It is simply enchanting and a strong message about the power of story.
Product Description
Curious little Henry from the award-winning books When You Were Small and Where You Came From has a new question for his mother in this charming new picture book. "What was it like when you were small?" he asks. His mother proceeds to describe her adventures to him, all about when she was little – very little!
About the Author
Sara O'Leary is a playwright, fiction writer, and literary journalist. She teaches Writing for Children and Screenwriting at Concordia University in Montreal.
About the illustrator
Julie Morstad is an award-winning illustrator and fine artist known for her surreal, whimsical work. Illustrator of numerous children's books, including Singing Away the Dark and When You Were Small and its two sequels Where You Came From and When I Was Small, Julie has exhibited her work in galleries, animated two music videos with her brother, filled up stacks of sketchbooks, and made countless pots of soup and many loaves of bread. She lives in Vancouver with her family.
Disclosure:  A free copy of this book was furnished by the publisher for review, but providing a copy did not guarantee a review. This information is provided per the regulations of the Federal Trade Commission.