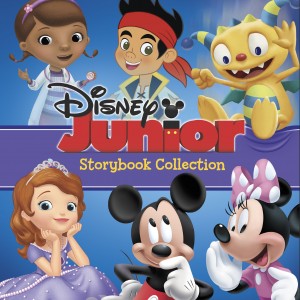 Disney Junior Storybook Collection
Author: Disney Book Group (edited by Denise Scott)
Publisher: Disney Press
ISBN-10: 1-423-17875-0
ISBN-13: 978-1-423-17875-0
Disclosure: A free copy of this book was furnished by the publisher for review, but providing a copy did not guarantee a review. This information is provided per the regulations of the Federal Trade Commission.
This book should have a year in the title, because this is at least the third annual volume with the same title. It is in the same format as such other annual Disney story books as the Disney Christmas Storybook Collection, Disney Scary Storybook Collection (for Halloween), Disney Pixar Storybook Collection, and others: a collection of short stories written by the Disney Book Group and illustrated by the Disney Storybook Art Team (various authors and artists) with full-color cartoons on every page. It is designed for readers 3 to 5 years old; the preschool to kindergarten first readers.
This 2014 volume of the Disney Junior Storybook Collection is an attractive hardcover of 304 gilded (silver-edged) pages, containing 18 stories featuring 6 of the animated programs currently appearing on the Disney Junior digital cable and satellite television network, aimed mainly for children from 2 to 9 years old. Most of the stories are based on TV episodes. The six, in the order shown on the cover from left to right, top to bottom, are "Doc McStuffins" (a young black girl plays doctor to her and her little brother's stuffed toys, which are brought to life by her magic stethoscope when nobody is around), "Jake and the Never Land Pirates" (some of the Lost Boys (including Izzy, a girl) of Never Land from Disney's 1953 Peter Pan animated feature have non-scary adventures with Captain Hook and his pirates), "Henry Hugglemonster" (a young monster, his siblings, parents, grandmother, and friends in suburban Roarsville have juvenile problem-solving adventures; such characters as Eduardo Enormomonster are intended to teach young children that monsters are not scary), "Sofia the First" (Sofia, a commoner child, becomes the youngest Disney Princess when her mother marries the King of Enchancia; her refusal to abandon her commoner friends teaches democracy to the aristocracy; Flora, Fauna, and Merryweather, the three good fairies from Disney's 1959 Sleeping Beauty, and various talking and magical animals are recurring characters), "Mickey Mouse Clubhouse" (Mickey and his friends have preschool problem-solving adventures which the preschool audience is invited to help solve; many stories involve a magic computer, the Mousekadoer, which identifies the Mouskatools needed to fix the problem and downloads them into Toodles, a mobile Mickey-head-shaped device that can be summoned to help Mickey and his friends), and "Minnie's Bow-Toons" (a spinoff of the Mickey Mouse Clubhouse for young girls, in which Minnie Mouse runs Minnie's Bow-Tique and, with the help of Daisy Duck and three new characters – Minnie's nieces Millie and Melody, and the magic cuckoo-clock bird Cuckoo-Loca – solves simple women's-business problems).
The Disney Junior Storybook Collection is an excellent "I can read it myself" book for preschoolers, especially those who already watch the Disney Junior network. It is published on August 5, 2014 at $16.99.