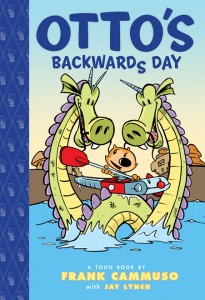 Otto's Backwards Day
Authors: Frank Cammuso with Jay Lynch
Publisher: TOON Books
ISBN-10: 1-935179-33-0
ISBN-13: 978-1-935179-33-7

Disclosure: A free copy of this book was furnished by the publisher for review, but providing a copy did not guarantee a review. This information is provided per the regulations of the Federal Trade Commission.


Otto's Backwards Day is a charming 32-page beginner's-reading book, age-rated for 4- to 8-year-olds, or preschool to the 3rd grade. It is a "real book", a hardcover, which is in the format of a comic book, to make it more accessible to children familiar with the comics.
Otto, a little orange cat-boy, is having a birthday tomorrow. He wants his cake and presents today. His parents tell him that he has to wait for tomorrow, not to be officious, but that's when his party is and all his friends are coming. Otto doesn't want to wait; "Who needs family and friends when I have the important things? Cake, ice cream, balloons…" Otto's father tells him that he has things backwards, and to go to his room to think about it. While there, someone steals all his cake, decorations and presents. Otto chases the thief into scientist Professor Barkwords' house next door, where the Professor has just invented a dimensional doorway into the backwards world, where people wear their underwear outside their clothes and rats chase cats. Otto and Toot, the professor's robot, chase the thief into the backwards world, and they have a colorful adventure there in which Otto learns that family and friends are more important than cake, decorations, and presents.
Otto is a spunky cat-boy. Children can learn from him that self-reliance is important, but so are family and friends. The dimensional doorway is named Palindrome, so children will also have their vocabularies increased from that and the palindromic words that Otto encounters, such as radar, kayak, and race car. The text alternates between regular prose and clever poetry that does not break the flow of the story.
TOON Books, an imprint of juvenile-specialty publisher Candlewick Press, consists of books designed to ease young children into reading. They are designed both to be read by children alone, and for parents to read aloud to children as a family activity. Their titles have received favorable reviews from School Library Journal, Booklist, and Kirkus Reviews. Frank Cammuso and Jay Lynch are both professional cartoonists. Cammuso is also an award-winning political cartoonist, and has written for The New Yorker and The New York Times, among other publications. Otto's Backwards Day is their second book featuring Otto, following Otto's Orange Day. This is highly recommended for beginning readers, and to encourage children to start their own libraries.