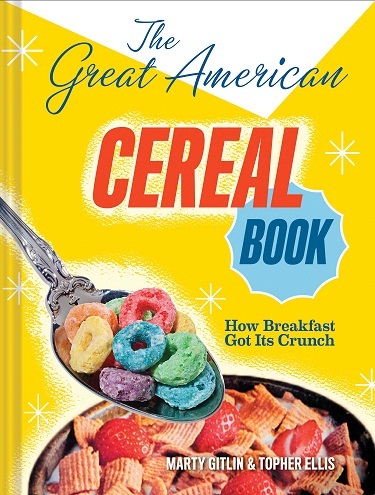 The Great American Cereal Book: How Breakfast Got Its Crunch
Authors: Marty Gitlin and Topher Ellis
Publisher: Abrams Image
ISBN-10:  0-8109-9799-1
ISBN-13:  978-0-8109-9799-8
If you can't guess from the title, The Great American Cereal Book will tell you all that you want to know about American prepackaged breakfast cereals.  Marty Gitlin is a freelance author of books about popular and topical subjects (Los Angeles Lakers, Girls Play to Win Cheerleading, The Hudson Plane Landing about the emergency airplane landing on the Hudson River on January 15, 2009).  For this book he partnered with Topher Ellis, a specialty consultant on breakfast cereals, editor of the cereal trade journal Boxtop, and webmaster of Topher's Breakfast Cereal Character Guide.
I can't say that this 368-page history and guide will tell you "everything" about breakfast cereals, because of the frequency of "Unknown" in the data.  Gitlin and Ellis got free admittance into the corporate archives of General Mills, Kellogg's, Nabisco, Nestlé, Post, the Quaker Oats Company, Ralston, and other manufacturers of prepackaged cereals, but all too often their records simply listed the names that cereals were marketed under, not the dates when they were introduced or were discontinued.
But except for this quibble, it's all here.  There is some narrative in the 19th century history of cereals, and in the stories of marketing superstars such as Rice Krispies and Rice Krispies Treats, Wheaties, Breakfast of Champions, Cap'n Crunch, the Trix Rabbit, and a few others.  But mostly this is information in tabular form for hundreds of well-remembered and forgotten brands:  The name of the cereal, manufacturer, date introduced, date withdrawn from sale, contents, varieties, notable spokescharacters (mascots), slogans, and "Crunch On This" amusing or interesting factoids.  The book is heavily illustrated in full color with cereal boxes, pictures of mascots, old advertisements, and other memorabilia.
Some of the information:  the earliest prepackaged breakfast cereal was Dr. James Caleb Jackson's Granula in 1863.  It required a necessary overnight soaking in milk to be soft enough to eat.  When John Henry Kellogg developed a ready-to-eat variant and used the same name, Jackson sued for copyright infringement, forcing Kellogg to change his cereal's name to Granola, which is still on the market today.  Post Corn Toasties began in 1904 as Elijah's Manna, in a box showing the Biblical prophet receiving the toasted corn flakes from Heaven.  Vehement protests from religious fundamentalists forced the pioneering C. W. Post to secularize and rename his cereal four years later.  Lucky Charms was the first cereal to contain "marbits", tiny shaped marshmallows; today they are a common component of cereals.  Quaker Oats' Quisp and Quake were two essentially identical cereals that were designed by Jay Ward (of Rocky and Bullwinkle fame) in 1965 to promote a humorous rivalry between their cartoon mascots on cereal boxes and in animated TV commercials.  Quisp was voiced by veteran animation voice actor Daws Butler, and Quake by actor William Conrad.  The campaign lasted until 1972, when Quake was discontinued and Quaker Oats proclaimed that Quisp had won.
In 1937 Post licensed the right to promote agent Melvin Purvis of the FBI in its Toasties.  Purvis' photo-portrait appeared in ads for a Junior G-Man kit that children could send in for.  Five cereals are 100 years old or older; four are between 80 and 100 years; six are between 60 and 80 years; and eleven are more than 50 years old.  Contrariwise, older cereal brands such as Cheerios were intended for permanence, while starting in 1980 cereal manufacturers began working with toy manufacturers, movie and TV and game promoters to design new cereals (or at least their boxes) to appear on market shelves for only as long as the tie-in maintained its popularity.  Among these cereals have been Batman, Teenage Mutant Ninja Turtles, Pokémon, Breakfast With Barbie, Jurassic Park Crunch, Tiny Toon Adventures Corn, Oats & Rice Cereal, Buzz Blasts (starring Buzz Lightyear of Toy Story), C3-PO's, Cabbage Patch Kids Corn and Wheat Cereal, Cinnamon Marshmallow Scooby-Doo, Cröonchy Stars (starring the Swedish Chef from Jim Henson's Muppets), Disney's Princess Fairytale Flakes, Dr. Seuss' The Cat in the Hat, Mr. T, Pirates of the Caribbean, and many, many more.  Many cereal brands have been improbably named, such as Force Flakes (the first cereal to have a cartoon mascot, Sunny Jim, created by W. W. Denslow in 1901), Oatbake, Tryabita, Sir Grapefellow and Baron Von Redberry (two cartoon World War I aerial aces; General Mills' answer to Quaker Oats' Quisp and Quake), Sugaroos, Mr. Waffles, Kaboom, Prince of Thieves (at the time of the movie Robin Hood, Prince of Thieves), Nerds, Directoyu, and Wackies.  The book closes with a list of fictional cereals; imaginary cereal names that have become well-known through appearing in popular comic strips, TV cartoons, and movies.  (Yes, Saki's Filboid Studge [1911; page 353] is acknowledged, although it's not listed in the index.)
The Great American Cereal Book (which is packaged to look like a cereal box) is another labor of love that took years to research and compile by its obsessed authors, who doubtlessly enjoyed every minute of it.  It will be in demand from nostalgia and pop-culture fans, as well as those who are really interested in information about popular cereal brands or where the famous cereal mascots like Toucan Sam and Tony the Tiger came from.
Disclosure:  A free copy of this book was furnished by the publisher for review, but providing a copy did not guarantee a review. This information is provided per the regulations of the Federal Trade Commission.