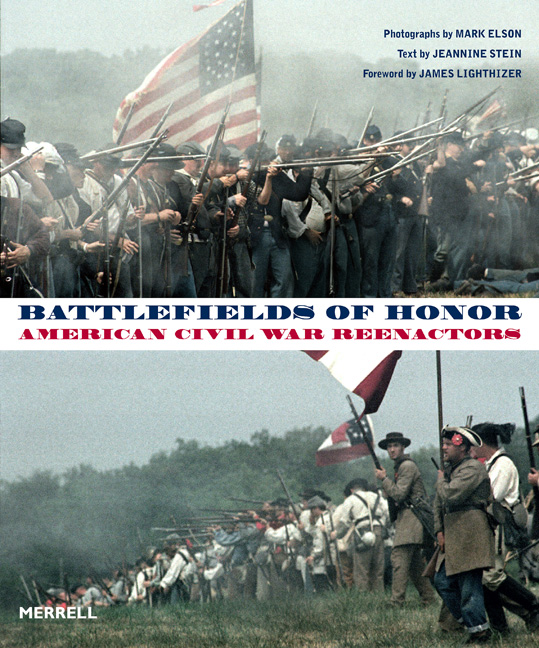 Author: Mark Elson
Hardcover: 176 pages
Publisher: Merrell Publishers (September 18, 2012)
ISBN-10: 185894578X
ISBN-13: 978-1858945781
If not for the title of the book, I would have thought I was gazing into the richly colored past, such are the quality and beauty of the photographs. The photographs and narrative are wonderful and provide  a fascinating look inside the world of civil war reenactors.  To be honest, I'd never thought much about them and if I had, I'd probably have wondered why they bothered.  BATTLEFIELDS OF HONOR answers that question in great detail.  It's amazing the amount of care and attention to detail that go into the costumes, weapons, everything.  Prodigious amounts of research on the part of the reenactors go a long way to preserving our history and one can't help but admire their deep dedication.
The photography is simply stunning.  There are wet plate photographs that look like they came from another time; full color photos that show the gorgeous textures of the fabrics and details to the costumes; and black and white or sepia toned photos and show so much emotion in a face.  I spent a couple of weeks just poring over the photos and often found myself swept away by the power of them.  This book is more than just photo-essays, it is a trip back into time and an incredible view of history.
Civil War buffs will adore the book; but it is really a wonderful book for anyone that loves history or photography or art.  I think it is a great teaching tool for children as well and one that will get them asking questions and wanting to learn more.  Highly recommended!
About the author:
Mark Elson is a Los Angeles-based photographer and filmmaker who specializes in wet plate photography. He attended the College for Creative Studies (formerly the Center for Creative Studies) in Detroit, Michigan, and the American Film Institute in Los Angeles, California. He has been a lifelong student of the American Civil War.
To view more of Mark's photography and read his blog visit: http://www.markelsonpictures.com
Disclosure:  A free copy of this book was furnished by the publisher for review, but providing a copy did not guarantee a review. This information is provided per the regulations of the Federal Trade Commission.