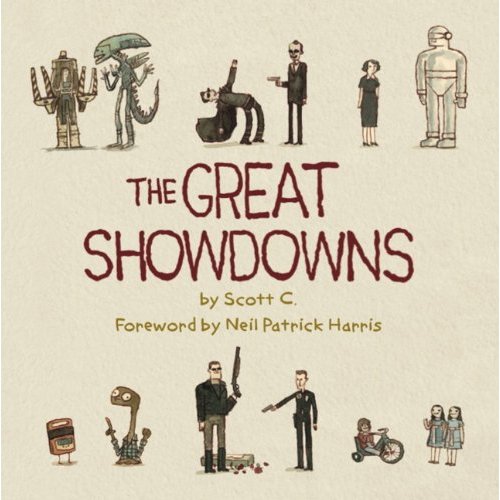 The Great Showdowns.
Foreword by Neil Patrick Harris.
Author:  Scott C.  [Scott Campbell]
Publisher:  Titan Books
ISBN-10:  1-7811-6277-8
ISBN-13:  978-1-7811-6277-4
Scott C. [Scott Campbell] has achieved a wide fandom for his quirky cartoons.  His paintings have been featured in galleries around the world.  His previous book, Amazing Everything: The Art of Scott C., got such reviews as, "The best thing about Scott's work is that it's so damn cute, clever, and funny!"
The Great Showdowns is a hardbound collection of 134 watercolor "strangely good-natured confrontations between the greatest characters in film history," to quote from Titan Books' press release.  The series was first exhibited at Los Angeles' Gallery 1988 during 2011.
To quote from the press release again, "With a foreword by Neil Patrick Harris (a fan who owns several originals from the series), The Great Showdowns collects the most memorable moments of melee, interpreted by Scott in his inimitable style, including Chief Brody vs. Jaws, Die Hard's John McClane vs. broken glass, Ripley vs. the Alien Queen, and even Spinal Tap vs. an undersized model of Stonehenge."
Since these are not identified, "The Great Showdowns" also makes for an excellent game of "Guess the Movie".  You can get a sample of six showdowns on the cover of this book.  Some in the book are obvious – Gort the robot and Helen Benson (Patricia Neal) in The Day the Earth Stood Still; E.T. and a telephone in E.T. the Extra-Terrestrial; the Terminator and the T-1000 in Terminator 2: Judgment Day; Gene Kelly in a raincoat and a lamppost in Singin' in the Rain; a piglet and a flock of sheep in Babe; Death, a knight, and a chessboard in The Seventh Seal.  Others will be harder to guess.
Have fun.  And if you can't have fun, you can at least enjoy looking at Scott C.'s watercolors.
Disclosure:  A free copy of this book was furnished by the publisher for review, but providing a copy did not guarantee a review. This information is provided per the regulations of the Federal Trade Commission.