Disclosure:  A free copy of this book was furnished by the publisher for review, but providing a copy did not guarantee a review. This information is provided per the regulations of the Federal Trade Commission.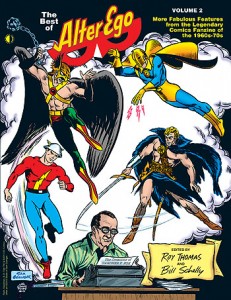 The Best of Alter Ego, volume 2
Editors:  Roy Thomas and Bill Schelly
Publisher:  TwoMorrows Publishing
ISBN-10:  1-6054-9048-2
ISBN-13:  978-1-6054-9048-9
"This sequel to Alter Ego: The Best of the Legendary Comics Fanzine presents more fantastic features from the fabled mag begun in 1961 by Jerry Bails & Roy Thomas-covering undiscovered gems from all 11 original issues published between 1961 and 1978!" (back-cover blurb)
Comic book fandom was invented in the early 1960s.  There had been sporadic articles on one or another science-fiction newspaper comic strip like "Buck Rogers" or on individual comic books like "Captain Marvel" in s-f fanzines during the 1940s and 1950s, but they were limited to what the fan-author – usually an enthusiastic teenager — could deduce from the issues in his collection.  Starting with Dick and Pat Lupoff's fanzine "Xero" in 1960-1963, some of the most knowledgeable comic-book enthusiasts at the time were asked to write, not just nostalgia pieces on their favorite comic books, but well-researched articles on their publication history.  This was to have been a dignified epitaph to a colorful but short-lived portion of popular culture.
Nobody realized it at the time, but this was just the period when what is now called "the Silver Age of comic books" was starting.  DC Comics reinvented costumed superheroes with the revived "The Flash" in 1959, and Marvel started "the Marvel Age of Superheroes" in 1961.  "Xero" became the new model for comic-book scholarship.  Suddenly every young fan who could get access to a mimeograph or a spirit duplicator was starting a fanzine that was not only devoted to his favorite costumed hero, but that included reports of visits to the DC or Marvel publication office, interviews with comic-book writers and artists, and the fan's (and his friends') amateur comic-book stories.  Most of these fanzines lasted less than a dozen issues and were very amateurish, but, boy, were they enthusiastic!
"Alter Ego", started in 1961, was one of the first and best of these, and after fifty years it is still going, as a professional full-color magazine today.  Where other fanzines were discontinued when their teenaged editors grew tired of them, "Alter Ego" was passed along to new editors, ending up with issue #7 in 1964 in the hands of Roy Thomas.  Thomas, a fresh college graduate and beginning high-school English teacher, parlayed his editorship of "Alter Ego" into a professional job at Marvel Comics a year later as editor Stan Lee's assistant.  Full-time work in the comic-book industry left Thomas with no time to continue his hobby, so "Alter Ego" became more and more erratic and finally went on hiatus in 1978.  He revived it over twenty years later in 1999, and it has been published bi-monthly ever since.
"The Best of Alter Ego, volume 2" is a $19.95 160-page trade paperback collection from the original 1961-1978 issues of the magazine, combined with Thomas' detailed history of its start up to its long hiatus.  Frankly, the book is most worthwhile as a piece of fannish nostalgia, and as an inspiration to today's teens of what can be done as an amateur in a given field.  Thomas and co-editor Schelly have produced a scrapbook of photographs of the leading comic-book fans of the 1960s; some complete, amateurishly written & drawn superhero adventures; and documentation of the activities of comic-book fandom in the 1960s, like "The Academy of Comic-Book Arts and Sciences presents:  The Alley Awards for 1962."  (The Alley Awards, named for the comic-strip character Alley Oop, were a short-lived award voted on by comics fans and given to the professional creators.)  Most of the "fact" articles herein, such as "'Merciful Minerva': The Story of Wonder Woman" by Jerry Bails (1961) have long ago been supplanted by better-written articles by other writers; in many cases during the last twenty years by whole books by professional authors with the publisher's complete archives to draw upon.
But, as they say, This Is Where It All Started.  It is arguable that if it were not for the pioneering fanzines of the 1960s, there would not be a scholarly historiography of the comic-book industry today.  The fans of the 1960s onward interviewed many of the professional editors, writers, and artists while they were still alive; and when those publishers were clearing out old files, they gave them to fans whom they knew wanted them instead of throwing them in the trash.  Among the book's contents are an unsold "Tor" newspaper strip proposal by professional Joe Kubert, and a 1977 interview with French artist Jean "Moebius" Giraud.  Some of the new material in this book includes friendly letters from those editors in reply to their fans, showing that the wise editors of the 1960s encouraged their fan base instead of brushing them off; and articles for the 2010s reader to explain what a mimeograph or a spirit duplicator was.
Full disclosure:  I am one of the fans included in this book, with an article on the Mexican s-f comic books of the mid-1960s that was my first "professional" writing credit.
Buy where there is interest in comic books, or the beginnings of comic-book/costumed superhero fandom, or in the popular culture of the 1960s.