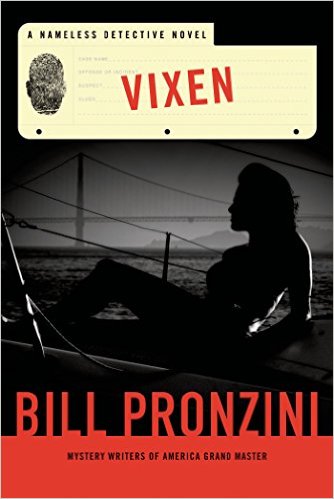 Vixen: A Nameless Detective Novel
Author:  Bill Pronzini
Publisher:  Forge; a Tom Doherty Associates Book
ISBN-10:  0-7653-3568-9
ISBN-13:  978-0-7653-3568-5
Bill Pronzini has been writing a roughly annual "Nameless Detective Novel", narrated by his now-famous anonymous p.i., since 1971.  This 44th makes this the longest-running private investigator series currently in print.  The book's personal subplot has evolved "Nameless" from a young loner through former partners and romances to his current position as head of a p.i. agency in San Francisco, staffed by three associates who are also personal friends.  (They call him Bill.)  Nameless has reached the age when he should retire and let his younger associates run the agency, but he can't resist getting involved in a juicy case that invariably turns out to be either more seemingly-unsolvable or life-threatening than he expects.
Nameless says in the Prologue that in this case he meets a vixen; a femme fatale:
"But a femme fatale in the classic mode?  Not even close.  If you'd told me that one day I would, and that her brand of evil would be like nothing I could ever have imagined, I would probably have laughed and said no way.
"I'm not laughing now." (p. 10)
Nameless' detective agency is hired by beautiful Cory Beckett, who identifies herself as a 27-year-old model, to find her younger brother Kenneth.  She says that the weak-willed Ken, a drug addict accused of stealing a valuable necklace from the alcoholic wife of his rich employer, has skipped bail and fled.  Cory wants Nameless to turn Ken over to her rather than to the police, so she can persuade him to appear in court.
It sounds simple, but Nameless' associate Jake Runyon finds that the terrified Ken shows no sign of taking drugs and claims that he never took the necklace – and that Cory, who is not a model, knows it.  After Jake notifies Cory and she arrives with a sinister boyfriend to pick up Ken, he, Nameless, and their other associate Tamara Corbin investigate further to find out if anything that Cory told them was true.
What they learn leads them to the planned exploitation of an arrogant and wealthy San Francisco social leader and politician.  It may not technically be a crime, and Nameless, Jake, and Tamara have no solid evidence to give to the police, but it could result in an innocent party being framed.  If the truth becomes public, the revelation that they had advance knowledge and did nothing about it risks ruining their reputation.  The three feel both morally and legally compelled to not ignore the situation.  As Cory's scheme nears fruition, her hold over her own pawns looks less certain than she is confidant of, raising the danger from major dishonesty to potential murder.
This main action of "Vixen" (hardcover $24.99, 224 pages; Kindle $11.99; MP3 CD $19.95) has the usual subplot of advancing Nameless's, Jake's, and Tamara's personal lives with their wives, children, lovers, and other acquaintances.
"Vixen" is a fine standalone addition to Pronzini's series.  It would help the reader to know more about the backgrounds of Nameless, Jake, and Tamara, but it's not necessary.  The novel includes a chronological list of the other books in the series, so any reader who wants more about the Nameless Detective's adventures can start from either end of it.