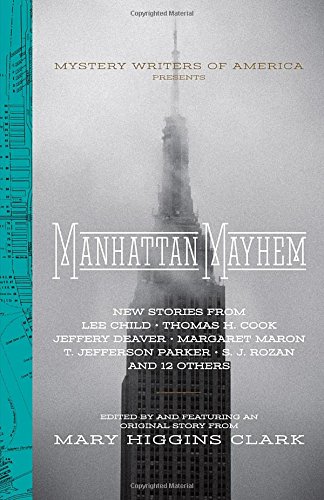 Manhattan Mayhem; New Crime Stories from the Mystery Writers of America, edited by and featuring an original story from Mary Higgins Clark.
Philadelphia, PA,
Quirk Books,
June 2015,
Hardcover $24.95 (320 pages), Kindle $12.99.
The Mystery Writers of America first met in Manhattan in 1945. For this 70th anniversary, editor Mary Higgins Clark has invited 17 leading mystery/suspense authors to each write a new short story set in a famous neighborhood or around a famous landmark of Manhattan: the Upper East Side, Times Square, the Empire State Building, Union Square, Greenwich Village, Little Italy, Wall Street, and more.
The theme sounds limiting, but there are a surprising variety of styles, times, and writers here. Some stories are set in the present, some in the past, and some over many years. Some are suspense thrillers, some are human-interest dramas, some are comedies. All the stories are stand-alones, but most feature original characters while one is an incident involving his author's famous star: Lee Child's Jack Reacher in "The Picture of the Lonely Diner" in the Flatiron District. All of the authors are popular veterans who have been writing mysteries for years, like Clark herself, Jon L. Breen, and Jeffery Deaver; most have won multiple awards and appeared on best-seller lists. Each story has its author's biography plus a portrait-quality photograph of the featured Manhattan neighborhood or landmark.
Each reader will have a different most-favorite and least-favorite, but even the least-favorites are of high-quality. My favorites are "Three Little Words" by Nancy Pickard (Upper West Side): a 27-year-old woman about to die of cancer is murdered first. Her doctor wonders who could have wanted to kill her, and finds out. "White Rabbit" by Julie Hyzy (Central Park). A shy young girl and a pushy young man, strangers, meet at the statue of Alice in Wonderland in Central Park, near where another young girl was murdered exactly a year earlier. "Chin Yong-yun Makes a Shiddach" by S. J. Rozan (Chinatown) is a comedy about a traditional Chinese mother who foils a kidnapping and finds her modern Americanized son a suitably deferential Chinese potential wife.
These 17 original stories will all be winners for mystery fans.