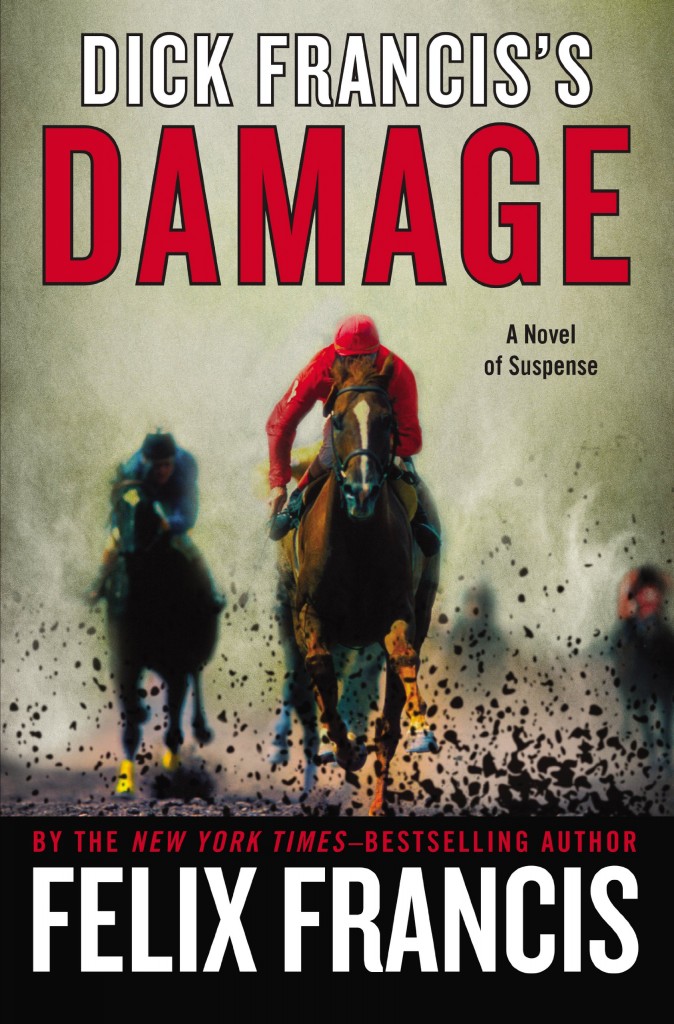 Dick Francis's Damage
Author:  Felix Francis
Publisher:  G. P. Putnam's Sons
ISBN-13:  978-0399-16822-2
A suspense/thriller by Dick or Felix Francis has been a mark of the highest quality in "mystery fiction" since 1962.  In that year Dick Francis, a former jockey in the 1950s for Queen Elizabeth, the Queen Mother who had become too injured to continue in horse racing, wrote his first murder mystery/thriller.  Its success led him to produce a suspense-thriller a year for the rest of his life, all having something to do with British horseracing although not always about racing itself.  Variations have included an artist investigating forged valuable paintings of racehorses, and a restaurateur investigating a poisoning at a catered racetrack luncheon.  Francis always researched his specialties thoroughly.  In his later life his son Felix began to help him, leading to a shared byline on Dick Francis' last four novels, and after his death to now four novels by Felix Francis alone.
Damage is narrated by Jeff Hinkley, a veteran undercover investigator for the British Horseracing Authority, the semi-official organization that regulates British horseracing.  Hinkley is assigned to watch Matthew Unwin, a banned ex-racehorse trainer who is suspected of coming to the Cheltanham Steeplechasing Festival to bribe a jockey to lose the race.  Instead, Unwin very publicly murders a bookmaker.  Unwin's defense is that the bookmaker (unknown to Hinkley) and Hinkley himself were persecuting him.
Hinkley's next, more serious assignment, is to uncover "Leonardo", a pseudonymous blackmailer who demands £5,000,000 to keep from ruining horseracing.  To prove his threat, the majority of the horses in another important race test positive for being given an illegal drug – the crime that got Unwin blacklisted.  Future attacks, all high-profile and devastating, are made against the jockeys and racetrack authorities.  As the BHA appears increasingly helpless to stop them, public opinion turns against it and demands that the BHA be disbanded and horseracing be returned to the authority of the Jockey Club, the aristocratic organization that had formerly controlled British horseracing.
Subplots that interrupt Jeff's investigations are his sister Faye's developing cancer, his having to decide whether he loves his longtime girlfriend Lydia enough to marry her, and a brother-in-law demanding that he clear the brother-in-law's son of a serious drug charge for which the stepnephew insists he's being framed.  As Jeff clears these complication out of his way, one by one, his search for the unknown Leonardo takes on the form of a personal duel between the two that the BHA's panicky officialdom becomes increasingly demanding that he solve immediately.  The closer that Jeff gets, the more that he suspects that Leonardo is someone within the BHA officials itself – and Leonardo's attacks switch from being against horseracing to focus murderously upon Jeff personally.
Damage is superior in both its development of the blackmailing and the efforts to stop it, and the human-interest dramas of Jeff's concern over his sister's life-threatening cancer, his doubts over his own long-term feelings toward his girlfriend, and the puzzle of why anyone wants to ruin the life of his young stepnephew.  Felix Francis balances all these admirably.  Damage is as good as any of the two Francis' almost-fifty thrillers.