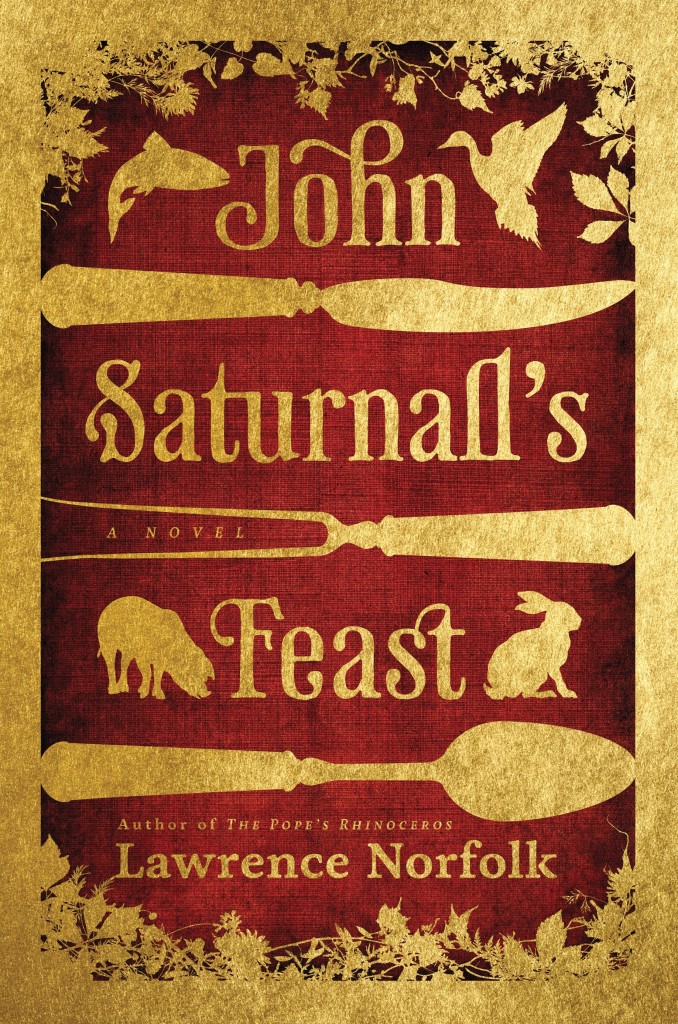 Title:  John Saturnall's Feast
Author:  Lawrence Norfolk
Publisher: Grove/Atlantic, Inc.
Imprint:  Grove Press
Pub Date: September 04, 2012
ISBN: 9780802120519
JOHN SATURNALL'S FEAST is the story of a young boy who's mother was accused of witchcraft in pre-Cromwellian England.  As she and her young son are driven out of the village to starve during the winter, his mother regales him with tales of a marvelous feast from the pages of her precious, old and illuminated book.  John learns to read from these stories of food and the Garden of Eden.  His starving belly filled with the descriptions of recipes, fruit, and wondrous dishes.
After his mother's death,  John finds himself living in the manor house as a kitchen boy.  His obsession with the feast and food uplifts him amongst the servants as he impresses the Master Cook with his ability to discern spices in a broth.  John quickly learns his craft, the feast always in his mind as he endeavors to create the best dishes.  He finds both forbidden love, friendship and enemies in his new life, but nothing can keep the feast out of his head.
The author took twelve years writing this book and it was well worth the wait.  The writing is lush, evocative and beautiful.  The gorgeous descriptions of food in both medieval language as excepts from his precious book or in the regular language of the book are riveting and delicious. The Feast is ever present and if there was ever a Garden of Eden, I want it to be the one Lawrence Norfolk has created, one where this marvelous feast is served.
Fans of language will love this book.  It is replete with marvelous words and language, masterfully written.  Foodies will adore it, history buffs will linger long on its pages and romance lovers will cheer and sigh.  JOHN SATURNALL'S FEAST is truly a feast for the literary senses.
Publisher's Blurb:
A beautiful, rich, and sensuous historical novel, John Saturnall's Feast tells the story of a young orphan who becomes a kitchen boy at a manor house and rises through the ranks to become the greatest cook of his generation. It is a story of food, star-crossed lovers, ancient myths, and one boy's rise from outcast to hero.
It is the early-seventeenth century and John Saturnall is a young boy grow­ing up in the village of Buckland. He is bullied by other children, who claim that his mother is a witch. When many of the children in the village become sick, John's mother is blamed, and she and her son are chased out of the village. They move to a forest, where it is said a witch called Buccla once grew a legend­ary garden. Giving what little she can forage to her son, John's mother soon dies of starvation, but sees to it that John is taken in at the Buckland Manor house, where he begins working in the kitchen.
At the manor, John's keen palate and natural cooking ability allow him to quickly rise from kitchen boy to cook. However, he soon gets on the wrong side of Lady Lucretia, the aristocratic daughter of the lord of the manor. In order to inherit the estate, Lucretia must wed, but her fiancé is an arrogant buffoon whose face Lucretia thinks resembles a water parsnip. When Lucretia takes a vow of fasting until her father calls off her engagement, it falls on John to try to cook her delicious food that might tempt her to break her fast. As John serves meals to Lucretia, an illicit attraction grows between the pair, but fate is conspiring against them. Lucretia's betrothal cannot be undone, and soon the household is thrown into chaos as Cromwell's Roundheads go to war with the loyalist Cavaliers and the English Civil War begins.
Reminiscent of Wolf Hall, Jonathan Strange & Mr. Norrell, and works by David Mitchell and Peter Carey, John Saturnall's Feast is a brilliant work by a writer at the top of his powers, and a delight for all the senses.
About the author:
Lawrence Norfolk is the bestselling author of Lempriere's Dictionary, The Pope's Rhinoceros and In the Shape of a Boar, three literary historical novels which have been translated into 24 languages. He was born in London in 1963 but moved with his parents to Iraq shortly after. They were evacuated following the Six Day War in 1967 and he grew up in the West Country of England. He is the winner of the Somerset Maugham Award and the Budapest Festival Prize for Literature and his work has been shortlisted for the IMPAC Prize, the James Tait Black Memorial Award and the Wingate/Jewish Quarterly Prize for Literature. In 1992 he was listed as one of Granta magazine's 20 'Best of Young British Writers'. In the same year he reported on the war in Bosnia for News magazine of Austria. His journalism and reviews have appeared in newspapers and magazines throughout Europe and America. He lives in London with his wife and two sons.