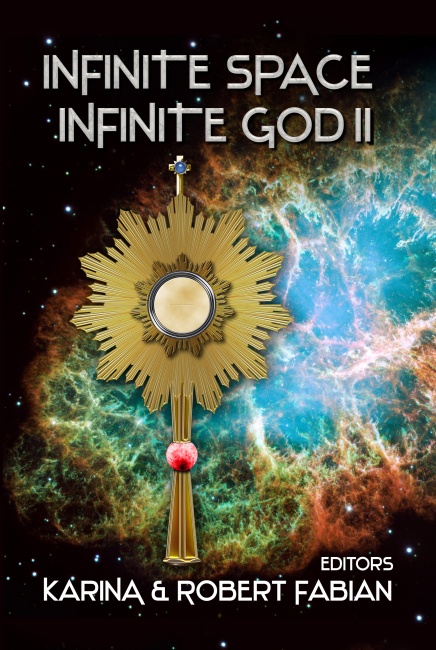 Infinite Space, Infinite God
Editors:  Karina and Robert Fabian
Publisher: Twilight Times Books
ISBN; 10: 1-933-35362-7
?ISBN; 13: 978-1-933-35362-3
http://www.amazon.com/Infinite-Space-God-Karina-Fabian/dp/1933353627/ref=pd_bbs_sr_1?ie=UTF8&s=books&qid=1197925255&sr=1-1
This anthology of 15 stories, some reprints but most written especially for this book, is intended as a celebration of Roman Catholic science fiction.  It projects the Catholic Church into the future and outer space.  "For two millennia, the Church has shown its ability to adapt and change as science and society have grown, from the understanding that Scripture does not explain the scientific workings of our universe to the evolving roles of its clergy.  It continues to support science while exercising its duty as Christ's earthly authority to provide moral guidance on its application," the editors state in the Introduction.
The 15 stories postulate how the Church – or individual Catholics who are scientists or space explorers – may react to situations that society is expected to confront in the near or distant future.  Some beginning with the first, "The Harvest" by Lori Z. Scott, and "Understanding" by J. Sherer, ask whether artificially created humans should be credited as having souls.  "Mask of the Ferret" by Ken Pick & Alan Loewen shows the Church active in a future interstellar society with many intelligent aliens of different species – do they have souls?  Karina Fabian's "Interstellar Calling" asks, do human Catholics have an obligation to proselytize among intelligent aliens?
Several stories such as "Hopkins' Well" by Adrienne Ray and "Brother John" by Colleen Drippé set the above questions in future oppressively atheistic societies where the Church has been driven underground.  "Our Daily Bread" by Karina & Robert Fabian shows the problems that devout Catholics may face in practicing the tenets of their faith in the cramped, tiny habitats of space exploration in the deadly environment of our Moon and space stations.  "Brother Jubal in the Womb of Silence" by Tim Myers and "These Three" by Karina & Robert Fabian predict that off-Earth settlements may lead to new Catholic religious orders such as Our Lady of the Rescue, ordained to succor space travelers.
Some of the tales show keeping the faith in bleak futures.  In "The Hosts of the Envoy" by Alex Lobdell, a space explorer stumbles upon a centuries-lost starship whose current generation has abandoned former religions for a new one that worships the Earth.  "Little Madeleine" by Simon Morden takes place on a future Earth so mired in squalor and a breakdown of society that the Church has to sanction militant nuns, the Order of St. Joan the Protector, to prevent "with extreme prejudice" the vandalization of its churches and attacks upon its clergy.  In "Stabat Mater" by Rose Dimond, the Pope must try to keep the Church alive amidst nuclear terrorism and war that threaten human extinction.
"Canticle of the Wolf" by Alan Loewen is a fable about St. Francis and a time-traveling bioengineered werewolf.  "Far Traveler" by Colleen Drippé is about a scientist who uses an experimental time-traveling device to see Jesus.  In "A Cruel and Unusual Punishment" by Maya Kaathryn Bohnhoff, a contemporary Irish terrorist comes to peace with his blind hatred of "the enemy".  All 15 stories are thought-provoking, and rebut the stereotype of Roman Catholicism as dominated by fundamentalists who have not advanced beyond believing that every word in the Bible is literally true.