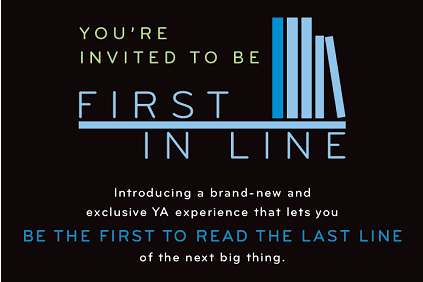 Random House Children's has an exciting new YA program, FIRST IN LINE, which offers YA readers exclusive advance access to bestselling and debut authors and behind-the-book content!
Members receive a monthly newsletter and access to locked sections of the site. This will include special behind-the-book material and author content, such as never-before-seen deleted scenes, extended excerpts, author videos and Q&As, sharable social images, and advance reader's copy giveaways!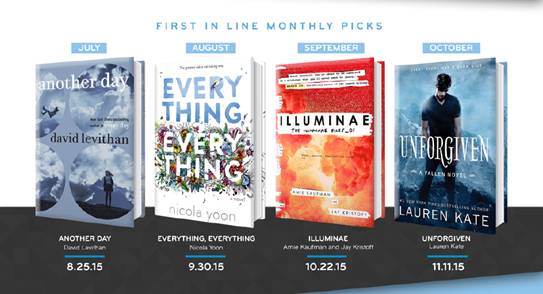 The inaugural books that are being featured include: New York Times bestselling author James Dashner's THE GAME OF LIVES, New York Times bestselling author David Levithan's ANOTHER DAY, bestselling and critically acclaimed authors Amie Kaufmanand Jay Kristoff's ILLUMINAE, debut author Nicola Yoon's EVERYTHING, EVERYTHING, and more!
Random House Children's Books invites you to join now at www.firstinlinereaders.com! And, don't forget to share your FIRST IN LINE moments with hashtag #FIRSTINLINE. Tell your friends, teens, and colleagues to secure THEIR place in line at www.firstinlinereaders.com.
Also, I have a First in Line tote bag (only one and only for US residents) to give away. You know you want it! I'm going to make it easy since I have only one tote bag to give. No Rafflecopter, no tagging – simply leave a comment telling me your first in line, along with a contact email for you and if you're the first comment, the bag is yours. Simple as that! I'll follow up via email and get your shipping info and we're good to go. Don't forget to share your First in Line moments using the above mentioned hashtag.