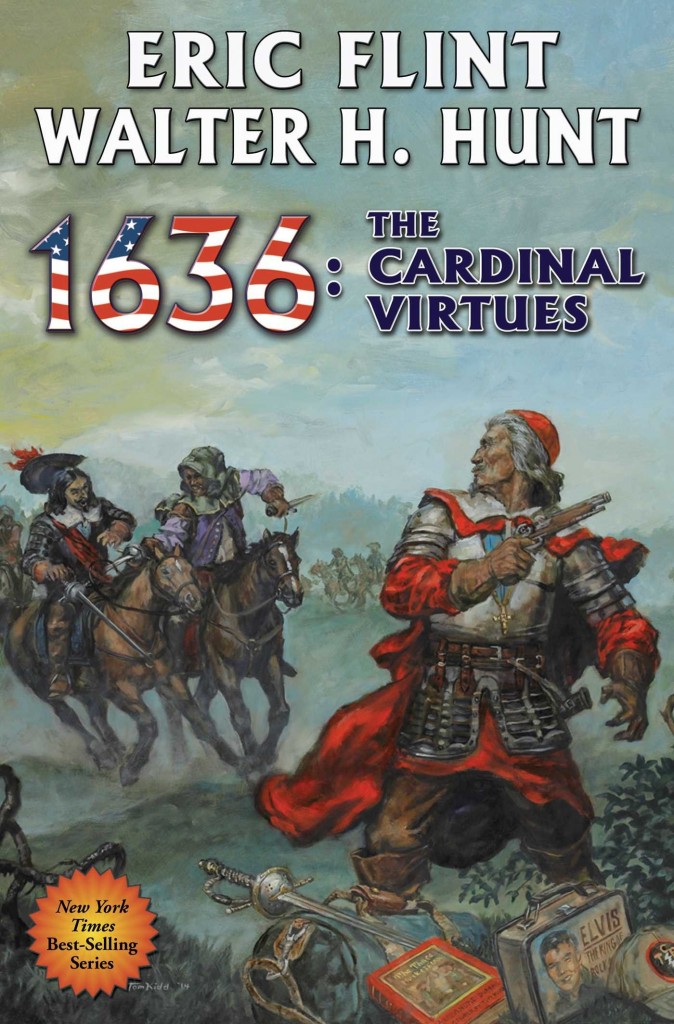 1636: The Cardinal Virtues
Authors: Eric Flint & Walter H. Hunt
Publisher: Baen Books
ISBN-10: 1-4767-8061-7
ISBN-13: 978-1-4767-8061-0
Eric Flint wrote the science-fiction novel "1632" in 2000. In it, a small modern West Virginia city is sent back in time and space by the mysterious "Ring of Fire" to 1631 [sic.] central Germany, arriving in the midst of the Thirty Years War (1618-1648). The novel tells how about 3,000 20th-century Americans would have changed history.
Flint was immediately swamped with letters from readers suggesting their ideas of how a small group of modern Americans would have affected history; militarily, politically, and culturally, first throughout Europe and then spreading throughout the world. Flint has gathered these into an army of research assistants, and helped them into helping him to write sequels in association with them.
"1636: The Cardinal Virtues", written by Flint with Walter H. Hunt, is the 19th "Ring of Fire" book, several of which have been New York Times best-sellers. In 1636, Louis XIII had been the king of France since 1610, but was still childless despite two decades of fathering stillborn heirs. Both French nobility and commoners believed that either he or his queen were infertile. Louis' more popular younger brother Gaston d'Orleans was confident of becoming the next king of France, and was openly advocating having Louis set aside in his favor. He was opposed by Louis and his powerful minister, Cardinal-Duke de Richelieu. In this novel, the American "up-timers" know and have announced that Louis will eventually have a son, the future Louis XIV. Gaston plots to make sure that never happens. The results change history so much that the events in the Americans' history books will never happen.
"1636: The Cardinal Virtues" (hardcover $26.00, Kindle $9.99, audible $23.95) is a suspenseful blend of history and imaginative fiction. It includes many actual 1636 historical figures such as Louis XIII and Gaston d'Orleans, Cardinals Richelieu and Mazarin, queens Anne of Austria and Marie de Medici, the French marshal Comte de Turenne, Archduchess Isabella of Hapsburg (sister of King Philip IV of Spain and his governor in the Low Countries), Peter Paul Rubens (remembered today as a famous Dutch painter, but he was also a diplomat and spy of the Spanish Hapsburgs); fictional minor French bureaucrats, soldiers, and commoners; and the fictional American "up-timers" whom the 1630s European aristocrats try to use, and who in their turn try to introduce 20th-century-style democracy and such practices as health improvements to 17th-century Europe. This novel incorporates historical changes from the earlier books – for example, Gustav II Adolf of Sweden, who died in 1632 in real history, is still alive here – and, since it is part of an ongoing series, ends with neither the 17th-century Europeans nor the 20th-century Americans knowing what to expect next. Baen Books has announced that the next "Ring of Fire" novel, written by Flint with Andrew Dennis, will be set in 1635 in another part of Europe with different characters.
"1636: The Cardinal Virtues" will be popular with readers interested in 17th-century European history, alternate history science-fiction, and taut action-adventure in a historical setting; and especially with fans of the earlier "Ring of Fire" books by Eric Flint and others.