In honor of Hispanic Heritage Month (Sept. 15-Oct 15) Hachette Book Group USA has rounded up a collection of their best books that celebrate Hispanic Americans and have offered me the opportunity to give away five sets here on AmoXcalli.  These are exciting titles and wonderful books so I expect a stampede.
The contest starts September 15th and winners will be announced on October 16th.  No starting early!
The books are:
1. Dream in Color By Linda Sánchez , Loretta Sánchez ISBN: 0446508047
2. Gunmetal Black By Daniel Serrano ISBN: 0446194131
3. The Gifted Gabaldón Sisters By Lorraine López ISBN: 0446699217
4. Bless Me, Ultima By Rudolfo Anaya ISBN: 0446675369
5. Brownsville By Oscar Casares
6. The Hummingbird's Daughter By Luis Urrea ISBN: 0316154520
7. The General and the Jaguar By Eileen Welsome ISBN: 0316715999
8. Tomorrow They Will Kiss By Eduardo Santiago ISBN: 0316014125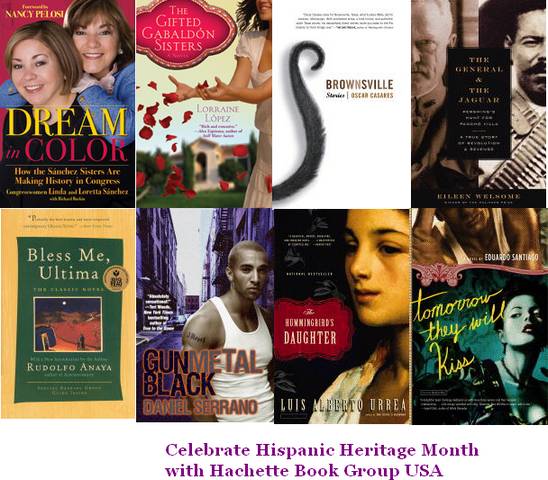 Que padre, no?
I thought about what the best way would be to give them away, and this is what I came up with:
Share Your Love of Hispanic Heritage Month by Sharing the Love on Hispanic websites!
So here's the deal:
There are 8 books in the set, so visit 8 blogs dedicated to Hispanic Heritage in some way, especially if they are literary blogs
Leave a comment there saying AmoXcalli and HBGUSA sent you – link us if possible.
Come back here and comment to this contest post with the links to the sites you visited.  I'll go check out the site and the first five people to do this get the set.
If you go one better and make a donation of any kind to the United Farm Workers and support the work of my heroes César Chávez and Dolores Huerta, I will personally donate two random books from my own library.
If you go still one better and Tweet it or mention it on your blog or website and send me either the tweetor the link, I'll send still another book from my library.  I'm @amoxcalli if you want to follow me on Twitter and if you want to follow Hachette Book Group on Twitter, they be cool like that. Here's the Twitter addresses:
@centerstreet
@faithwords
@foreverromance
@grandcentralpub
@littlebrown
@orbitbooks
Rules:Â  You must reside in the U.S. or Canada and no PO Boxes please.
Special thanks to Literanista.  @literanista on Twitter  She's got one cool blog.