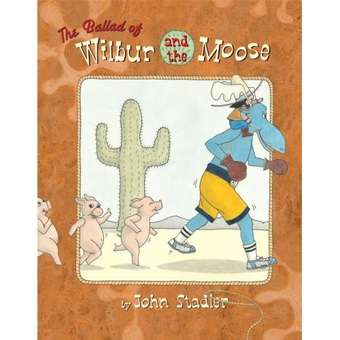 The Ballad of Wilbur and the Moose
Author and Illustrator:   John Stadler
Publisher: Robin Corey Books
ISBN: 978-0-375-84174-3
The Ballad of Wilbur and the Moose was first published back in 1989 with wide acclaim. I'm happy to say that it's back in print and as funny as ever.  It's a wonderful picture book with a rhymed ballad that is bouncy and catchy and fun, fun, fun.
The ballad is about a strange pint-sized cowboy named Wilbur who drinks lime juice and travels the range herding pigs with his sidekick, Alvin the big blue moose.  Many the adventure is had in this rollicking tale about two good friends and their strange love of pigs.
The illustrations are beautiful and  they  help but make you smile, as does the ballad.  Happy pigs dancing in a circle, a big blue moose wearing boxing gloves, pigs reading books, singing and cooking, pig rustlers are just some of the whimsical drawings done in cartoon style.  In some of the illustrations, the pigs appear to be looking right at you daring you not to smile.
When I read this to my granddaughter (pig fan extraordinaire Jasmine) and my grandson Aiden they laughed and laughed.  I had to read it over and over again. It's a fun book to read aloud and one you won't get tired of. It's great fun and sure to cheer up even the grumpiest of the grumpy.  I highly recommend this book for anyone and especially for adults who are tying to entice reluctant readers.  The illustrations and the bouncy feel of the nonsensical ballad are sure to draw even the most adverse-to-reading child right into its net.  It's perfect for library, daycare or bookstore story times.

Product Description from the publisher:
MEET WILBUR LITTLE, a lime-juice drinking, pint-sized, sombreroed cowboy who herds pigs for a living. Wilbur tackles the villains he meets in the forms of pig-rustlers and gamblers, along with his loyal companion, Alvin (who happens to be a big blue moose), an off-key singing piglet, and a book-loving pig from Yuma. Their hilarious antics and pell-mell are the norm in a wacky western world where creative problemsolving is needed for good to triumph over evil.
The Ballad of Wilbur and the Moose was originally published in a slightly different form in 1989 to wonderful acclaim by Publishers Weekly, People, and The New York Times Book Review Children's Bookshelf. John Stadler recently located all of the original artwork (as well as creating one all-new spread) so that this publisher could bring this book back to the full glory it deserves.

Card catalog description
A cowboy fond of lime juice and a big blue moose work their way through a version of the Wild West where rustlers steal pigs and the dealer in your card game may be a crocodile. –This text refers to an out of print or unavailable edition of this title.
About the Author
John Stadler is the author of almost 30 children's books, among them the recent Big & Little and the bestselling Hooray for Snail. Many of his titles have been selected by ALA Editor's Choice, the CBC's Children's Choice, and Reading Rainbow. He lives with his wife, Nomi, in New Hampshire.