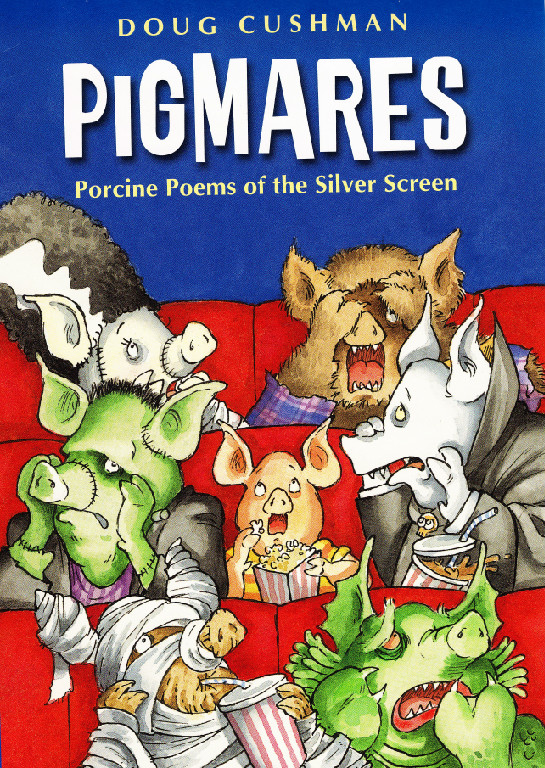 Pigmares: Porcine Poems of the Silver Screen
Author/Illustrator: Doug Cushman
Publisher: Charlesbridge
ISBN-10: 1580894011
ISBN-13: 978-1580894012
My granddaughter Jasmine collects what she calls "Piglit", or books about pigs. She's amassed quite a collection over the years of everything from Babe the Gallant Pig, to Charlotte's Web and everything in between. Pigmares was a must have for her collection and when it arrived in the mail, she beamed, grabbed the book and ran to her room to read. You know a book is good when you can hear a nine-year old girl chortling out loud. I myself am a huge fan of both poetry and old movie posters, so I got a big kick out of these wonderfully illustrated poems with a piggy theme. There are Werehogs! Need I say more?
PIGMARES is a wildly humorous collection of poems about pigs as old movie characters like Frankenstein a.k.a. Frankenswine or the Pig Mummy. The poems are fun, bouncy, full of rhythm and with a big homage to these wonderful old monster movies. I could see this book getting nominated for a Cybils Award next year (probably by me) and doing well in the category. I know the poetry panelists will truly enjoy it.
How can you resist lines like these from Pigzilla?
"Born undersea from toxic waste,
Miles from Tokyo's shore,
I'm a scaly beast below the waves,
With a radioactive roar."
Or how about these from The Bride of Frankenswine?
"A wooden table with a squeaking crank
Holds a shrouded from near a bubbling tank.
The howling wind drives the pounding rain.
A rattling clank sounds from a rusted chain."
Aren't they fun?
The illustrations are just as wonderful as the poems. I especially loved the Abominable Snow Pig, The Invisible Swine, The Bride of Frankenswine, Pigzila and Pig Kong. They are colorful, bright and beautifully done. Fans of old monster movies will love these gorgeous illustrations and kids will be drawn to the bright colors.
Doug Cushman has thoughtfully included a list at the back of the book that gives a short paragraph about what inspired each poem and illustration. Those short paragraphs were just as fun to read as the poems.
PIGMARES will make an excellent Halloween gift and would also be a great way to get kids, even the boys interested in poetry. Since there are monsters, boys will love it. Highly recommended!
Book description from the publisher:
When a young pig watches monster movies before bed, he's in for some tail-curling fun. From the Phantom Hog of the Opera to the Porker from the Black Lagoon, seventeen poems put a pigmarish spin on creepy classics. Illustrations evoke retro movie posters with hog-wild humor. Back matter includes information about the movies and literature that inspired each poem.
About the Author
Doug Cushman has written and/or illustrated more than one hundred books for children, including Halloween Goodnight, the Dirk Bones series, and the Inspector Hopper series. Doug lives in Paris, France.
Check out the Pigmares Facebook page and give it a Like or check out the Pigmare website.
Suggested hashtags: #dougcushman #amoxcallireviews #kidlit #books #illustration #pigs #poetry
Disclosure:  A free copy of this book was furnished by the publisher for review, but providing a copy did not guarantee a review. This information is provided per the regulations of the Federal Trade Commission.