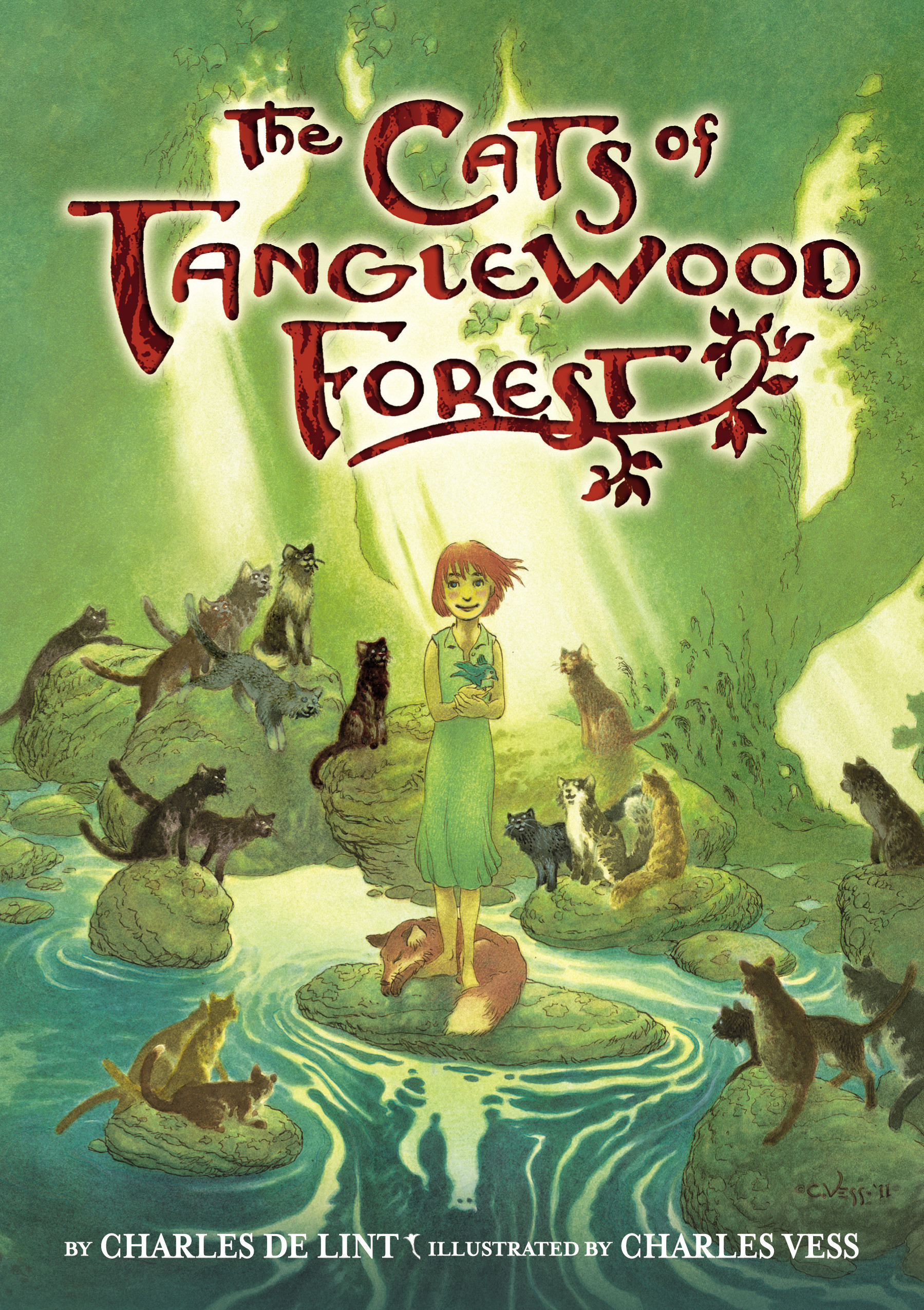 The Cats of Tanglewood Forest
Charles de Lint (Author), Charles Vess (Illustrator)
Publisher: Little, Brown Books for Young Readers
Language: English
ISBN-10: 0316053570
ISBN-13: 978-0316053570
The Cats of Tanglewood Forest is a fairytale that reads like those old epic stories that tell of someone seemingly ordinary, but who has an extraordinarily kind heart. In the old stories, that was your hero who went on a long quest, filled with adventure, mystery and danger. At the heart of this tale is Lillian, a red-headed girl who loves to run and play in the forest, seeking out fairies and daydreaming under trees. She's close to the earth and her kindness shows. She has respect for nature, respect for magic and is a lover of tales. You immediately love her and are drawn into her world with the beautiful writing of Charles de Lint, an expert at telling tales. His words paint a vivid and marvelous world full of magic. Charles Vess' artwork, as always is dreamy, lush and gorgeous. His colors and brushstrokes pull you farther into this world that seems so real. The story makes you feel at home and it also takes you back into your childhood, reminding you of those hours you spent curled up with an old fairytale adventure, being transported into that world.
Lillian's quest is a great one and in it she meets the fabled Bear-people, Old Mother Possum and a few others. She learns more about the lore of her town and most importantly, like in any truly great fairytale, she learns about consequences and what really is important in life. The illustrations perfectly fit the story and I adored Lillian, who is smart, feisty and a perfect heroine. The story is folksy, charming and perfectly wonderful.
The book is a testament to why hard-cover print will never truly die. From the thick dust jacket, to the raised and shiny title lettering, to the thick and satisfying pages that you want to touch, feel, caress; everything in the book is a feast for the senses. You can't get that from an e-book. Sure, you'll get the great tale and see the stunning artwork, but you won't have that delicious crack of the spine, that tactile pleasure you get from a beautiful book like this one.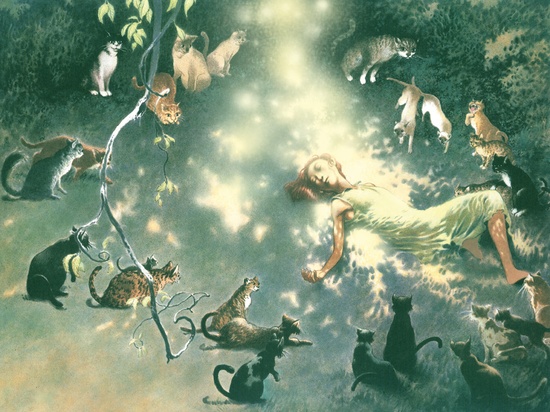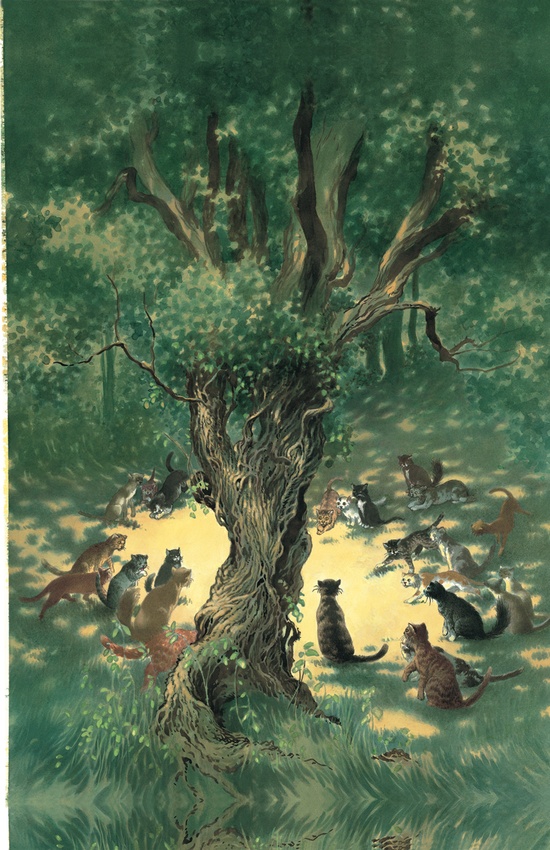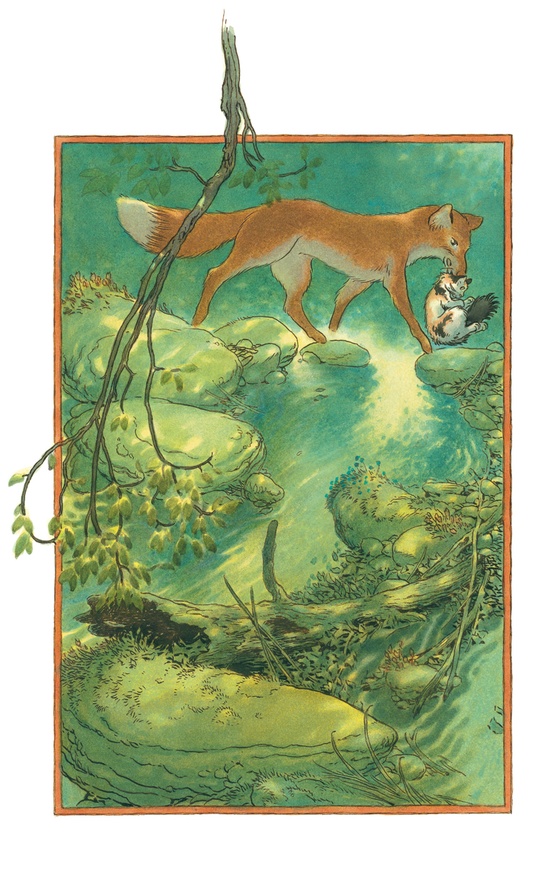 Book Description from the publisher
The magic is all around you, if only you open your eyes….
Lillian Kindred spends her days exploring the Tanglewood Forest, a magical, rolling wilderness that she imagines to be full of fairies. The trouble is, Lillian has never seen a wisp of magic in her hills–until the day the cats of the forest save her life by transforming her into a kitten. Now Lillian must set out on a perilous adventure that will lead her through untamed lands of fabled creatures–from Old Mother Possum to the fearsome Bear People–to find a way to make things right.
In this whimsical, original folktale written and illustrated throughout in vibrant full color by two celebrated masters of modern fantasy, a young girl's journey becomes an enchanting coming-of-age story about magic, friendship, and the courage to shape one's own destiny.
About the Author
CHARLES DE LINT is the much-beloved author of more than seventy adult, young adult, and children's books, including The Blue Girl, Dingo, The Painted Boy, Under My Skin, and A Circle of Cats, the picture book on which The Cats of Tanglewood Forest is based. Well known throughout fantasy and science-fiction circles as one of the trailblazers of the modern fantasy genre, he is the recipient of the World Fantasy, White Pine, Crawford, and Aurora awards. De Lint is a poet, songwriter, performer, and folklorist, and he writes a monthly book-review column for the Magazine of Fantasy & Science Fiction. He shares his home in Ottawa, Canada, with his wife, MaryAnn Harris; a cat named Clare; and a little dog named Johnny Cash.
About the Illustrator
CHARLES VESS is a world-renowned artist and a three-time winner of the World Fantasy Award, among several others. His work has appeared in magazines, comic books, and novels including The Coyote Road–Trickster Tales, Peter Pan, The Book of Ballads, and Stardust, written by Neil Gaiman and made into an acclaimed film by Paramount Pictures in 2007. Vess has also illustrated two picture books with Gaiman (Instructions and Blueberry Girl) that were New York Times bestsellers. His art has been featured in several gallery and museum exhibitions across the United States as well as in Spain, Portugal, the United Kingdom, and Italy. He lives on a small farm and works from his studio, Green Man Press, in southwest Virginia.
Disclosure:  A free copy of this book was furnished by the publisher for review by the publisher, but providing a copy did not guarantee a review. This information is provided per the regulations of the Federal Trade Commission.  Images are used with the permission of the publisher.