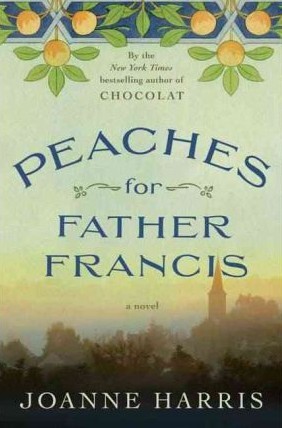 Peaches for Father Francis
Author: Joanne Harris
Publisher: Penguin Group (USA)
Imprint: Viking USA
Pub Date: October 02, 2012
ISBN: 9780670026364
One of the things I love about Joann Harris' novels is her skill with language. It is lovely, almost like a poem or a song. Her words skate gracefully along the edges of hyperbole in such an elegant way that it is evocative without being cheesy. Not every writer can manage that so well. PEACHES FOR FATHER FRANCIS embodies this skill and grace of writing. Beyond her flair and style with the written word, Ms. Harris is a master storyteller.
PEACHES FOR FATHER FRANCIS brings back our characters from her popular CHOCOLAT: Vianne, Roux, and the villagers are all back with new characters. The village has changed, the wind that blew Vianne away to Paris has now taken a turn bringing her news from the grave. She and her daughters, Anouk and Rosette return to a town in trouble and steeped in mystery. Along the river there has sprung a Muslim neighborhood and the differences have made the town settle into two camps – us and them. Father Francis, Vianne's old nemesis, now finds himself seeking her help. Her beloved Roux stays behind in Paris, not wanting to return to the village.
Things are not always as they seem in this story. Could Vianne's man Roux have fathered the little boy her daughter Rosette is fast becoming friends with? Why is her old friend so reluctant to see her? What is she hiding? What is the story of the girl on the bridge? Is she losing Roux?
Joanne Harris writes so eloquently about the every day living, racial tensions and misunderstandings that can occur in even the most magical of towns. How her characters learn and grow from conflict is always enlightening and courageous. I love most of all her lovely turn of phrase, how she makes us live, breathe and feel each character. She makes me almost smell the peaches cooking for jam mixed with the scent of the river Tannes. I can hear the children laughing and the whispers of secrets that haunt the village of Lansquenet. PEACHES FOR FATHER FRANCIS is a marvelous follow up to her previous novels about Vianne Rocher. It is a story of homecoming and resolution.

About the Author
Joanne Harris is the author of the Whitbread Award-nominated Chocolat (made into an Oscar-nominated film starring Juliette Binoche and Johnny Depp) and seven other bestselling novels. She plays bass guitar in a band first formed when she was 16, is currently studying Old Norse, and lives with her husband and daughter in Yorkshire.

Disclosure:  A free copy of this book was furnished by the publisher for review via NetGalley, but providing a copy did not guarantee a review. This information is provided per the regulations of the Federal Trade Commission.