The grandkids and I have been doing a lot of reading this summer and we have some recommendations for you from our Random House Children's Books stack. We're great fans of RHCB because of the great writing, print quality and storytelling. Some of them are new books from favorite authors and others are completely new to us. We hope you will find these books equally appealing. Don't forget that the Cybils nominations are coming up in October, so make your notations, we're sure some of these will make the noms.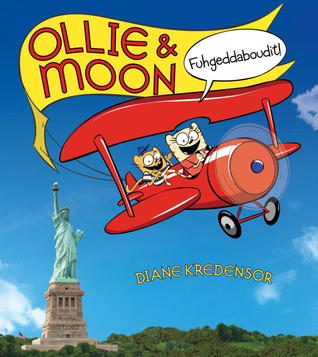 OLLIE & MOON: FUHGEDDABOUTIT! By Diane Kredensor
Reading level: Ages 3 and up
Hardcover: 32 pages
Publisher: Random House Books for Young Readers (May 22, 2012)
Language: English
ISBN-10: 0375870148
ISBN-13: 978-0375870149
Our family fell in love with the first Ollie & Moon book, so we were excited about this one. We love the great photos and the silly antics of Ollie and Moon, who are the best of friends. In this latest story, Ollie & Moon roam New York City. The full color photographs of Central Park, Chinatown and other landmarks are a stunning backdrop for the animated and comic figures of Ollie & Moon. It's a great way to teach your kids about the city. The story is funny as are all the Ollie & Moon stories. It's silly and wonderful with all the qualities of a cartoon, which is not surprising since the author is an animator and Emmy-award winning artist.
About the Authors
DIANE KREDENSOR's grown-up years have been spent pursuing a successful career in animation. She still hasn't grown up all the way, for which she's proud. Diane is an Emmy Award-winning artist for her work on Pinky and the Brain, Clifford the Big Red Dog, and WordWorld, to name a few. This is her second children's book with Random House. Diane happily lives in Brooklyn, New York, with her partner, their son, and two cats who bear a passing resemblance to Ollie and Moon. Visit Diane at DianeKredensor.com.
MIKE MESKIN is a Mac wizard who happens to shoot lovely photographs in his spare time. He lives in New York with his wife and son.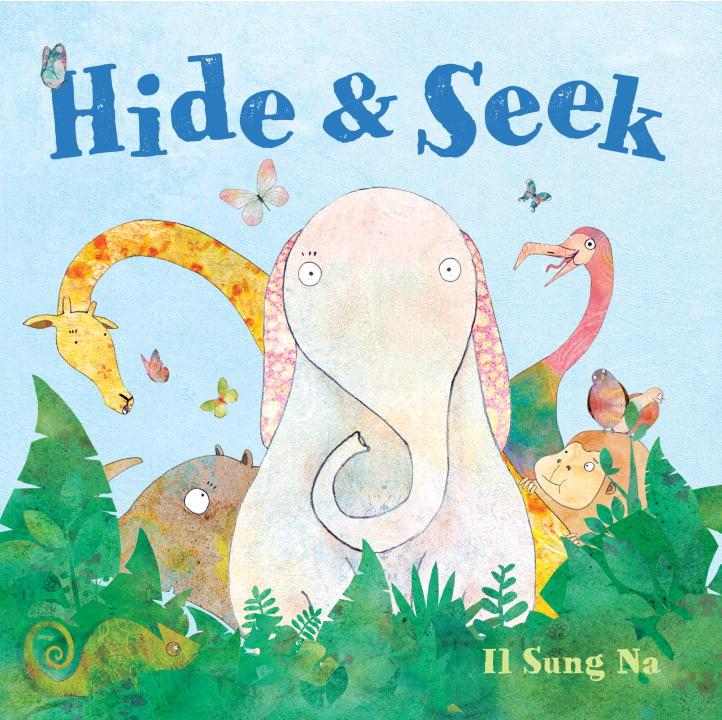 HIDE & SEEK by Il Sung Na
Reading level: Ages 2 and up
Hardcover: 32 pages
Publisher: Knopf Books for Young Readers (June 12, 2012)
Language: English
ISBN-10: 0375870784
ISBN-13: 978-0375870781
There is a dreamy, ethereal quality to Il Sung Na's books and this one is no exception. His watercolors are stunning and dreamy. The kids love to stroke their fingers along the lines of his beautiful animals and wonder how he gets the effects he does. HIDE & SEEK is a great counting book for younger children, while their older siblings and beginning readers can follow along with the simple text of a hide and seek game. Because of the colorful illustrations and how soft and airy they are, the desire is to linger with the book, making learning time enjoyable. Adults reading the book to their children will love it because of the illustrations which seem to promote a calming effect. Simply beautiful!

About the Author
Originally from Korea, IL SUNG NA studied illustration at Kingston University in London. A Book of Sleep was his first picture book, followed by The Thingamabob and Snow Rabbit, Spring Rabbit, all of which are available from Knopf. To learn more about Il Sung Na and his work, please visit IlSungNa.com.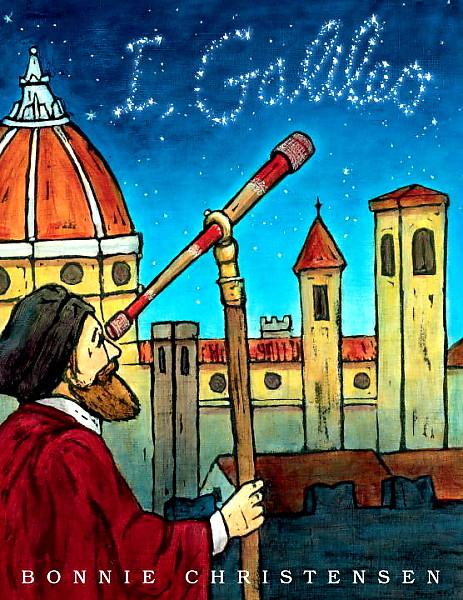 I, GALILEO by Bonnie Christensen
Reading level: Ages 8 and up
Hardcover: 40 pages
Publisher: Knopf Books for Young Readers (June 12, 2012)
Language: English
ISBN-10: 0375867538
ISBN-13: 978-0375867538
While this is a picture book and an incredibly beautiful one, the abundance of text and the reading level of the story puts this book solidly in the Middle-Grade category. That said, even non-reading children will love this books for the lovely illustrations and parents can paraphrase or just show the pictures to the children at story time. Bonnie Christensen makes history both gorgeous and fun. I, GALILEO is so well done and an engrossing story. At the back of the book is a handy glossary, a list of websites and Galileo's astronomical discoveries, as well as a bibliography which makes it a handy reference for librarians, educators and parents. I, GALILEO is highly recommended as are any of Christensen's books for their remarkable storytelling, beautiful illustrations and her way of making even the driest of subjects engaging and fun.
About the Author
BONNIE CHRISTENSEN is the author and illustrator of the Schneider Family Book Award winner Django and Woodie Guthrie, Poet of the People, a Boston Globe-HornBook Honor Book and a New York Times Notable Book. Her illustrations also appear in the London Folio Society's editions of The Grapes of Wrath and over ten children's books, including Pompeii: Lost and Found, written by Mary Pope Osborne and The Princess of Borscht by Leda Schubert.
You can find out more about her books on her website.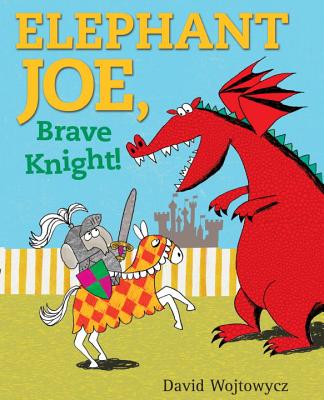 ELEPHANT JOE, BRAVE KNIGHT! By David Wojotowycz
Reading level: Ages 3 and up
Hardcover: 32 pages
Publisher: Random House Books for Young Readers (June 26, 2012)
Language: English
ISBN-10: 0307930874
ISBN-13: 978-0307930873
If you're looking for something funny, colorful and different to read to your child, ELEPHANT JOE, BRAVE KNIGHT is your book! The illustrations are bright and colorful with an almost comic book feel. I loved the idea of an elephant and a zebra out on a quest fully decked out in medieval armor on a destrier. Awesome. Of course, there is an alligator princess trapped in a dark tower, captive of a dark knight and guarded by a gaudy red dragon. Or is she? Elephant Joe and Zebra Pete make wonderful knights and the story is hilarious. A very worthy addition to the Elephant Joe books indeed.
About the Author
DAVID WOJTOWYCZ has illustrated dozens of books for children, many of which he has also written, such as the myriad adventures of Elephant Joe, and  A Cuddle for Claude, which inspired an animated television series broadcast in England, where the books were originally published. One of David's most successful books is Rumble in the Jungle, written by Giles Andreae. David grew up in England and divides his time between London, Berlin, and Chicago.
SMALL BUNNY'S BLUE BLANKET by Tatyana Feeney
Reading level: Ages 1 and up
Hardcover: 32 pages
Publisher: Knopf Books for Young Readers (June 12, 2012)
Language: English
ISBN-10: 0375870873
ISBN-13: 978-0375870873
There is nothing like the bond of a child and their special blanket. SMALL BUNNY'S BLUE BLANKET perfectly illustrates that bond. Simple line drawings and a four color palette make the book engaging, simple and lovely to look at. The story is a good one and one that both parents and small children will relate to. Even older children, like my middle-grade granddaughter and first-grader grandson love this book for it's bedtimey feel and engaging story.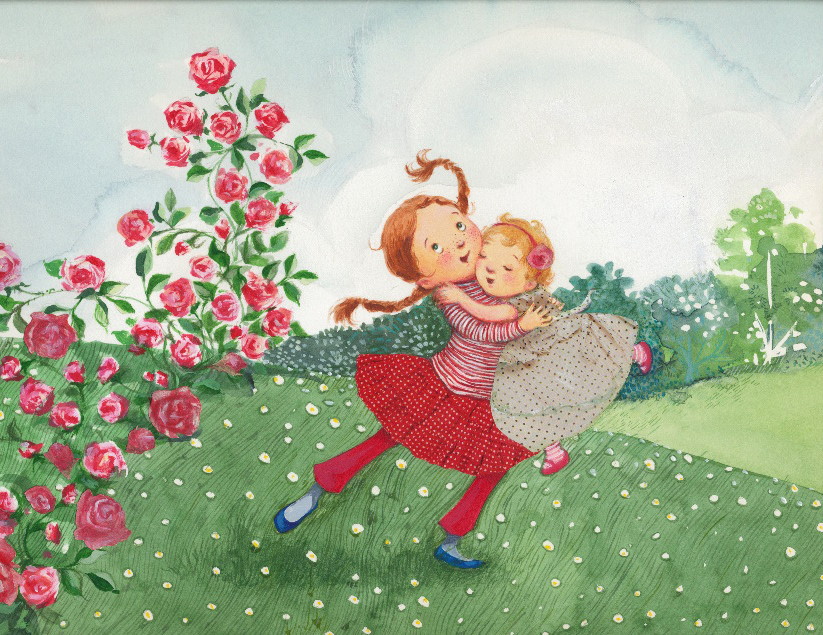 A SONG FOR MY SISTER by Lesley Simpson, Illustrated by Tatjana Mai-Wyss
Reading level: Ages 4 and up
Hardcover: 32 pages
Publisher: Random House Books for Young Readers (June 26, 2012)
Language: English
ISBN-10: 1582464278
ISBN-13: 978-1582464275
This is a beautiful book that little girls will love. It is the story of the Jewish naming ceremony of a new sister. I loved how the story dealt with the reaction of the older sister who wants a sister, has prayed for one and when she gets one is confronted with the reality of a screaming baby. On her baby sister's naming day, they find a way to bond. It is a perfectly lovely and loving story of sisters. Highly recommended for new big sisters of all cultures and Jewish girls especially. The illustrations are gorgeous and a wonderful companion to the story.
About the Author
LESLEY SIMPSON's secret fantasy is to sing! In the real world, she has worked as a reporter, feature writer, and columnist for Canadian daily newspapers, as well as an associate producer for CBC Radio. In her other writing life, Lesley is the author of The Hug, The Shabbat Box, and Yuvi's Candy Tree. She lives with her family in Toronto, Canada, but you can visit her anytime at LesleySimpson.ca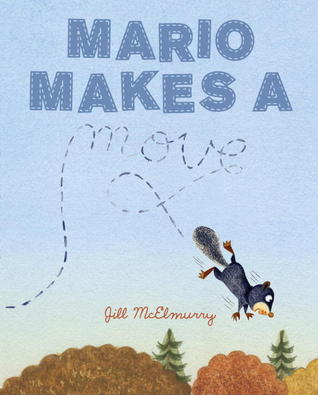 MARIO MAKES A MOVE by Jill McElmurry
Reading level: Ages 3 and up
Hardcover: 32 pages
Publisher: Schwartz & Wade (May 8, 2012)
Language: English
ISBN-10: 0375868542
ISBN-13: 978-0375868542
Mario loves to make amazing moves and demonstrate them to his friends and family. One day he runs into Isabel who has her own moves. How he deals with it and learns to work together with Isabel make a simply story of friendship and teamwork completely wonderful. The illustrations are beautiful and humorous. The grandkids especially loved the diagrams of the moves. The story is a great one that teaches the value of working together to become better.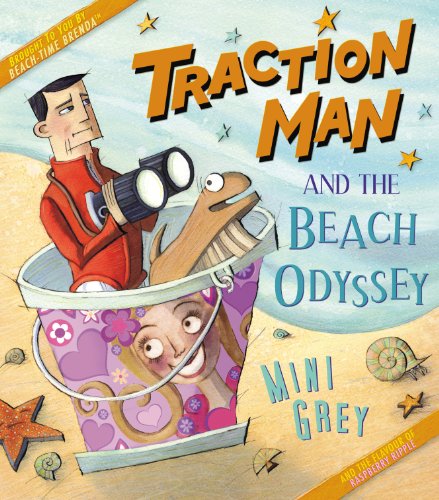 TRACTION MAN AND THE BEACH ODYSSEY by Mini Grey
Reading level: Ages 5 and up
Hardcover: 32 pages
Publisher: Knopf Books for Young Readers (May 22, 2012)
Language: English
ISBN-10: 0375869522
ISBN-13: 978-0375869525
Traction Man is back! My grandkids (particularly Aiden) absolutely adore the fun and wonderful stories of Traction Man and his fateful sided Scrubbing Brush. Each new book about him make both children laugh so hard and they read the stories over and over. In TRACTION MAN AND THE BEACH ODYSSEY, Traction Man and Scrubbing Brush set out to the ocean for an adventure with their family. They explore the secret crevices of Rockpool (Traction Man is wearing his Suquid-Proof Scuba Suit, Lightweight Shorts and Aquatic Air Tanks) until they get called for lunch, but Truffles buries Traction Man in the sand and while Scrubbing Brush is digging him out, they both get swept away. What follows is an adventure in true Traction Man style as they end up in a Dollie's castle and get treated to ice cream. I expect to see the Dollies in more Traction Man adventures…. Any of the Traction Man books are highly recommended. Children love the stories and adults will snicker at the wonderfully snarky digs at toy marketing. Absolutely wonderful!
ABOUT THE AUTHOR
Mini Grey was given her name after being born in a Mini in a car park in Newport, Wales. She studied for an MA in Sequential Illustration at Brighton under the tutelage of John Vernon Lord. Mini also worked as a primary school teacher in Oxford, where she now lives.
Her books include Egg Drop, The Pea and the Princess (shortlisted for the CILIP Kate Greenaway Medal), Biscuit Bear (winner of the Nestlé Children's Book Prize Gold Award), Traction Man is Here (winner of the Boston Horn Book Award and shortlisted for the CILIP Kate Greenaway Medal), The Adventures of the Dish and the Spoon (winner of the Nestlé Children's Book Prize Bronze Award and winner of the CILIP Kate Greenaway Medal), and Traction Man meets Turbodog. Mini Grey is one of the Big Picture's ten Best New Illustrators.
Disclosure:  Free copies of these books were furnished by the publisher for review, but providing copies did not guarantee a review. This information is provided per the regulations of the Federal Trade Commission.